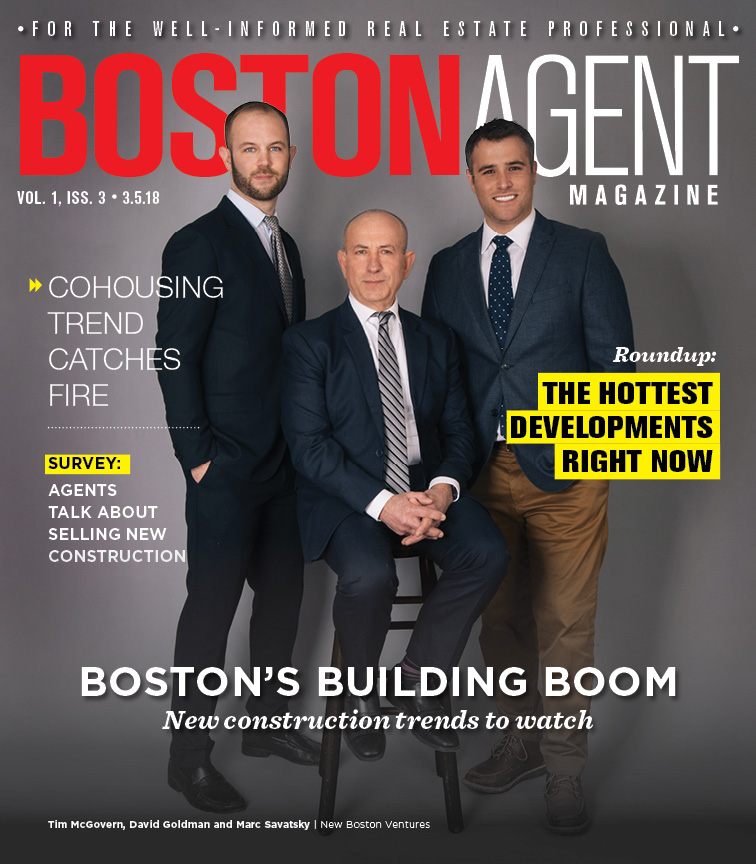 A growing and dynamic city like Boston needs ample housing construction to keep up with the constant stream of new residents. And while the demand for housing in the Boston area has been sky high, developers have to get creative and aggressive to meet the city's needs due to its size and infrastructure. In July, Boston had the ninth-most cranes of any city in the country, and housing permits were up 12 percent in 2017 compared to the previous year, according to the Greater Boston Housing Report Card. The construction boom is not only adding much-needed housing stock to the area, but it's transforming neighborhoods as well as the city's skyline.
"Boston is in a growth cycle right now," says David Goldman, principal with New Boston Ventures. "It's a combination of the city really promoting development and housing and just Boston being a city where people want to live."
New job opportunities and business growth have helped expand Boston's population, as the five-county area surrounding the city has gained over 360,000 new residents since 2000. Employment and wage rates have also increased, but so has the number of homeowners paying more than 30 percent of their income on housing — 35.8 percent of area residents were considered "cost burdened" in 2015 compared to 26.7 percent in 2000, according to TBF. A sharp increase in housing demand exacerbated already-low inventory levels, driving up home prices in the metro area. Inventory woes continue to hamper sales and increase competition in the early part of this year. Politicians have taken to the issue, as Boston Mayor Martin J. Walsh has pledged to build 53,000 new housing units by 2030 and others have announced measures to loosen inventory.
Boston developers appear ready to answer the call. After a disappointing 2016, housing permits in the city rebounded last year to nearly 13,000 issued permits, up 12 percent from 11,500 in 2016, according to the Boston Foundation's housing report card. Perhaps even better news is the kind of housing being added: permits for buildings with at least five units were expected to hit 8,500 in 2017, a 31 percent jump over 2016. The emphasis on multi-unit buildings will help bring housing units to areas where they are most needed: land-starved neighborhoods in the heart of Boston.
"Creating additional units has been good to see," said Kevin Caulfield, managing director at Compass. "There are areas in the city that have been completely transformed by new development."
Where construction is booming
While some of Boston's most popular neighborhoods are still seeing their fair share of new housing activity, developers have begun branching out to previously overlooked areas. "Without question, the Seaport District is one of those areas," Caulfield says. "It's really come out of the ground there, both on the residential and commercial side. There's a lot to do."
Compass, where Caulfield is a managing director, is investing heavily in the Seaport and South Boston areas, including the new project called 14 West, which will be a 49-unit, full-service condo building with a restaurant on street level. The development is like others in the city, with builders placing an emphasis on luxury and walkability. Urban dwellers still want to work and play where they live, and developers are finding ways to give them just that.
"There's a large segment of the market looking for walkability," Caulfield says. "Buyers want functional space. With the younger crowd, that's leading an active lifestyle, if you can have some sort of gym amenity or yoga studio. Larger buildings have a club room or some space where people can go in and use as a work space or a space where they can have private parties or meet other people in the building. Those have almost come to be expected. When you get into the real high end of the market, the expectation for amenities has increased. There's something for everyone out there right now."
Available land in some inner-city neighborhoods can be hard to come by, so developers are getting creative, Goldman says.
"You have neighborhoods who at one point in their history were more industry, but that's turning over," he says. "Now, you're seeing some abandoned industrial parcels that are turning into housing. You're seeing people look at places that have been overlooked, and you're seeing opportunity in those overlooked neighborhoods."
Goldman's company, New Boston Ventures, has gotten creative with one new development in an up-and-coming area. The company transformed a defunct church in the Bay Village area into a 33-unit condo building by adding an impressive glass structure where the church's roof used to sit. "Finding available parcels to build on or buildings to convert is more challenging in those neighborhoods, but you still see it happening," Goldman says.
Changes in zoning and public infrastructure have also made some areas more accommodating of new housing development. New Boston Ventures was the first to develop on the Rose Kennedy Greenway, the public green space that replaced the elevated highway. The building, Boulevard on the Greenway, gives residents an urban feel with ample opportunity to walk the city. "It was an area you wouldn't have though of building up before," Goldman said of the greenway. "Who wants to build next to a highway? Now it's this amazing park."
Suburban growth
New construction is not confined to Boston proper. Many of the surrounding suburbs are seeing the same population growth, especially as the city's housing becomes more competitive and, thus, expensive. "After 9-11, folks were afraid to live in the city. So what happened, people moved into the suburbs, and as time went on, people moved back to the city," says Kevin O'Grady, broker with Coldwell Banker in Waltham. "That spurred a lot of growth. It's started to outpace folks who don't have the wherewithal to live in the city are branching out again. You're seeing the national builders, the Toll Brothers and such, they're building very, very large subdivisions and large communities wherever they can find property."
O'Grady said much of the new construction in the suburbs has been mid-rise, which will help boost density in some areas. Much of the new housing consists of 55-plus communities with many empty-nesters looking to downsize. "People are looking for smaller homes, smaller condos. They're looking in many cases for single level," he says. "The walkability, its not a bad thing. But right now, out in the suburbs, I'm not seeing much of that."
And with older people moving out of their homes and into retirement villages, some might expect a loosening of inventory in certain areas. But that isn't necessarily the case, O'Grady says, because the homes those people are leaving are too big and too expensive for first-time homebuyers, who are particularly feeling the pain of the inventory crisis. New home construction doesn't help much either, because the cost of land and labor is so high that the homes are still priced above most first-timers' budgets.
"Now what we're seeing is new homes starting at $500,000 or $600,000, that first-time homebuyer is going to struggle to get into that," he says. "There's an awful lot of new construction going on. Hopefully that competition will drive the cost of land down and developers will be able to get costs down."
Challenges for new construction
The lack of available land is a big issue hindering further housing development around Boston, but the other costs associated with construction have been just as prohibitive, according to developers and real estate professionals.
"Acquisition costs can be a problem because Boston is in such a growth cycle that you pay a real premium," Goldman says. "You've also got to factor in that construction costs only go up. That's a real consideration. All of the peripheral costs will drive what you can sell or rent something for. Costs are going up, so prices are going up. That is why it's so important to have programs that promote workforce housing."
With labor in demand, the cost of quality subcontractors has also risen, and that has likely slowed development, O'Grady says. But if the underlining problem is that there is too much development in the works for the available labor, that's not the worst issue to have.
Boston and its residents used to be more resistant to change, especially when it comes to development in historic neighborhoods. But that's changing, Caulfield says, and the effect has been good for the city.
"The city right now is a little more pro development than it's been," he says. "Boston is attracting larger corporations, we're attracting foreign investors. I think that's a good thing. You'll see areas along the fringe become gentrified. It can be great for the city to expand the footprint of where people are going. Developers will have to continually push the envelope with location to find value."