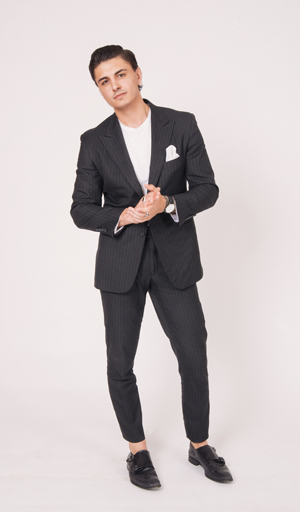 Number of years in real estate: One.
Describe your look: My style is an expression of myself each day of how I wake up and how I feel. I'm influenced by street style all over the world. (Paris, Milan, New York). Fashion forward is the key.
What do you consider a "fashion don't"? Please never wear too many colors … fruit loops. Also don't try too hard. Just being you speaks volumes. Go take that stuffy shirt and tie off now.
What is your favorite piece of clothing and why? Basic-color T-shirts are the most versatile piece of clothing a man or woman can own.
What do you consider a must-have accessory? A classic timepiece with a leather band. It'll never go out of style!
Where are your favorite places to shop? Zara, Suit Supply, Gucci, FOG, Y3 by Adidas.
What, besides your wardrobe, completes your look? There is no doubt my personality completes my look. Nobody wears Gucci slippers without having a story behind them!
What is in your bag/brief case? My phone charger and maybe a few business cards, (I prefer you on Instagram and take your number, though!)
My closet is full of… Neutral-colored clothing that'll work with whatever, whenever.
What is your style advice for other people in the industry? Express yourself — you show the most confidence when you are feeling yourself, so dress like it.
Please list the designer (or store) of each piece of clothing that you wore today, including accessories and shoes. Loafers: Gucci; suit: Zara; Jewelry: David Yurman.