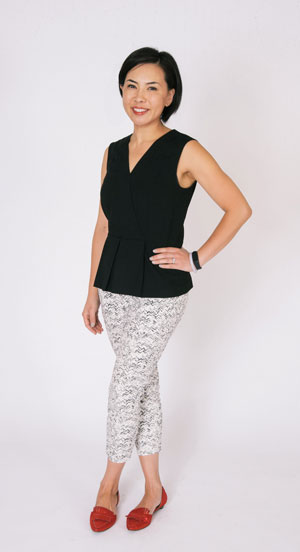 Number of years in real estate: Two as an agent and six as a real estate portfolio manager.
Describe your look: I believe that feeling comfortable brings out my best self — genuine, confident and professional.
My look reflects my "business comfortable" or "fun professional" approach. I like clean lines and mixing causal pieces, such as dark wash, well-tailored jeans or capri pants with more traditional, professional pieces, such as blazers or classic cardigans. My one "must" is comfortable shoes. As a Boston-based real estate professional, I walk a lot! However, comfortable doesn't have to mean boring! My red sparkle Oxford-style flats can go for miles. I'm a professional, but I'm also a real person who needs to be able to work — and walk — in the clothing that I am wearing!
What do you consider a "fashion don't"? Flesh-colored anything — unless it's worn underneath other clothing! The horror.
What is your favorite piece of clothing and why? Currently, it's a maxi-style jumpsuit in a bright flower pattern from Anthropologie. I love warm weather — the warmer the better! Despite the frigid New England winters, my spring and summer outfits outnumber my cold weather clothes. You could say that my closet reflects my aspirational personality!
What do you consider a must-have accessory? A must-have accessory should be something classic, yet personal.
In my case, it's a lavender jade bracelet my mom gave me on my 19th birthday. In Asia, a jade bracelet is considered a very traditional piece of jewelry. It's a gift that signifies a rite of passage for young women. Lavender jade is a non-traditional color, so naturally I chose it to make the bracelet uniquely mine!
A second must-have is a silk scarf. It instantly dresses up a simple outfit.  My favorite type is a rectangular one.  It can be tied as a necklace or used for warmth depending on the weather!
Where are your favorite places to shop? For basics, I like Anthropologie, J.Crew, Banana Republic, Nordstrom and Madewell. I also frequent local shops and boutiques for high-quality, unique pieces.
I believe in having well-made, well-tailored pieces as basic wardrobe staples. I'll add on more trendy, seasonal pieces from places like Zara or H&M to bring the look up to date.
What, besides your wardrobe, completes your look? Great skin is always "in." I take good care of my skin so that I can wear minimal makeup, mostly just tinted lip balm or gloss and sunscreen, even in the winter. With New England's unpredictable weather, instead of carrying around a makeup bag for endless touchups, I'd much rather carry items that my clients will find useful, like a tape measure!
What is in your bag/brief case? Laptop, notebook, cellphone, tape measure, mints, sunglasses and a tinted balm from L'Occitane.
My closet is full of… Shoes and scarves!
What is your style advice for other people in the industry? Dress functionally, within reason. Every day will bring a different, and often unexpected, challenge.
You may do substantial walking with clients during a home inspection. During wet weather, you may have to slosh through snow or a wet yard to get a full view of the property. While rain boots aren't exactly stylish, my clients appreciate that I never let my fashion choices impede upon my duties to them.