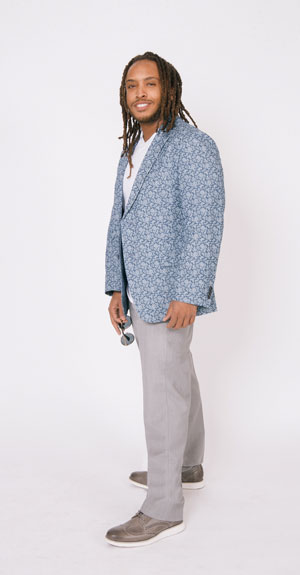 Number of years in real estate: Two.
Describe your look: Seasonal and reasonable, inspired by the late Craig Sager.
What do you consider a "fashion don't"? Not wearing a belt. That's the biggest cardinal sin of them all, at least of fashion. As a child, I recall my dad telling me that having a belt on is just as essential to your wardrobe as wearing the pants itself.
What is your favorite piece of clothing and why? A handmade dress shirt that my older brother gifted to me on a recent trip from Ethiopia and Kenya. Its ornate trims almost resemble something from Michael Jackson's personal collection, I swear. I'm convinced that I won't bump into anyone with the same shirt.
What do you consider a must-have accessory? The right pair of polarized sunglasses is vital. Proper UV eye protection along with great eyesight both play an integral role in my success as a real estate agent. Especially when I'm out all day on showings during the sunny summer months.
Where are your favorite places to shop? 7Liverpool, Zara, Lord & Taylor, Nordstrom Rack, Clarks, Macy's.
What, besides your wardrobe, completes your look? Sheer confidence, a purely positive attitude and a bright smile are the icing on the cake — too much cake is no good though. Also, can't forget how much of an impact my favorite cologne makes.
What is in your bag/brief case? Applications, business cards, 15-inch MacBook Pro, signed leases.
My closet is full of… Sportcoats, shoes that I've forgotten about, clothes that I need to donate.
What is your style advice for other people in the industry? Don't dress like anyone else in your office, or company for that matter. Express being your unique self by breaking conventions, being spontaneous, extending beyond your comfort zone and having fun!
Please list the designer (or store) of each piece of clothing that you wore today, including accessories and shoes. Socks: Polo Ralph Lauren; Shoes: Cole Haan; Suit: Calvin Klein; Shirt; Armani Exchange; Sunglasses: Prada