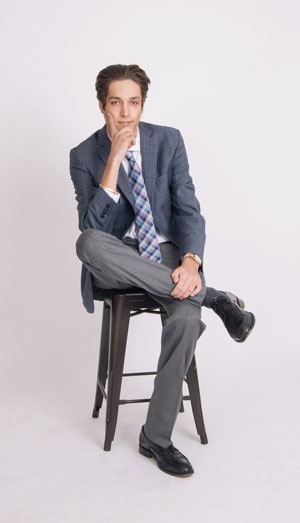 Number of years in real estate: Two years.
Describe your look: I'd like to think I have more than just one style. I always make sure to have a sports coat or blazer/suit with a tie, so definitely a professional look. I enjoy switching up blazers/sports coats and bottoms that mix well often as well.
What do you consider a "fashion don't"? Loose or baggy clothing is certainly a "fashion don't" for me. I always make sure I get a good fit and then get the suit tailored immediately on the spot. I also do not like when people wear bright-colored socks that clash with the rest of their outfit.
What is your favorite piece of clothing and why? My Burberry trench coat or my Burberry peacoat. They keep what is underneath from being vulnerable to the elements, which we all know can get bad in New England.
What do you consider a must-have accessory? My Burberry watch and wallet, plus my jewelry: gold Claddagh ring and necklace with Celtic cross and clover pendants.
Where are your favorite places to shop? I don't have one favorite shop, but if I had to pick one, it would definitely be Burberry. I am absolutely in love with their patterns.
What, besides your wardrobe, completes your look? My ties. I always wear a tie, even when hosting weekend open houses. You never know who you will meet or when a pop-up showing may occur. I like to look as presentable as possible at all times.
What is in your bag/brief case? Nothing too much, just my entire work life! My iPad, laptop, paperwork, blank GBAR and GBREB forms, and more.
My closet is full of… Memories. My sports jerseys and baseball bats will never leave my closet. Besides that, suits for days, and extremely comfortable sweatpants and hoodies for nighttime at home.
What is your style advice for other people in the industry? Be confident and always maintain a professional appearance.
Please list the designer (or store) of each piece of clothing that you wore today, including accessories and shoes. Blazer: Calvin Klein; pants: Hugo Boss; shoes: Johnston & Murphy; belt: Joseph Abboud; socks: Hugo Boss; dress shirt: Brooks Brothers; watch: Burberry.