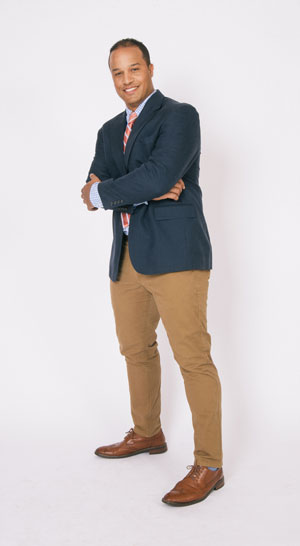 Number of years in real estate: 7.
Describe your look: I would describe my look as modern preppy. I like a lot of polo shirts and button-down shirts. I own a lot of the same shirts in different colors. If I find something I like I usually stick with it.
What do you consider a "fashion don't"? White socks with dress shoes or black shoes with a brown belt or vice versa. Lastly, wrinkled anything. Throw an iron on that bad boy!
What is your favorite piece of clothing and why? I would have to say my Patagonia vest. I honestly wear it all the time. I would have worn it today, but it's 80 degrees outside.
What do you consider a must-have accessory? Ray-Bans, even on a cloudy day.
Where are your favorite places to shop? Brooks Brothers, Bonobos, Puma — and let's not forget Marshalls on Boylston Street.
What, besides your wardrobe, completes your look? Confidence! A fresh hair cut and pearly white smile doesn't hurt either.
What is in your bag/brief case? Business cards, MacBook Pro, Mophie portable charger, my Allison Mazer Sotheby's light-up pen, gum, S'well water bottle, a bunch of keys and a few Red Sox ticket stubs.
My closet is full of… Polo shirts, button-downs, stacks of jeans, about 100 baseball caps, Puma suede sneakers.
What is your style advice for other people in the industry? I would have to say always wear nice socks. You never know when you're on a showing and the list agent tells you to take off your shoes. The last thing you want is to have a pair of busted socks or be walking around a property barefoot in front of clients.