Ehaab Bakeer, Realtor, Keller Williams Realty Boston-Metro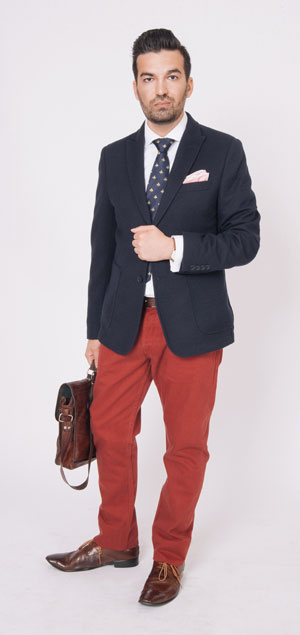 Number of years in real estate: Let's just say I'm bringing my years of experience in art and law to my new real estate business. Check back soon!
Describe your look: I would say dapper. I really like a lot of classic details with an urban update here and there.
What do you consider a "fashion don't"? Shoes with no socks! There's definitely a consensus of men that seems to think this is a good look; sadly, they're mistaken.
What is your favorite piece of clothing and why? My Barbour waxed jacket — it's really versatile, waterproof and just a great laid-back piece for town or country.
What do you consider a must-have accessory? A simple, stylish wristwatch. Anyone can look at his iPhone, but a watch makes a statement and is definitely helpful for telling time when you're on an important call.
Where are your favorite places to shop? Selfridges and Liberty in London; Barbour; and Saks.
What, besides your wardrobe, completes your look? Not part of the "look" per se, but a subtle signature fragrance is definitely complementary — my current favorite is Piment Brulant by L'Artisan Parfumeur.
What is in your bag/brief case? A silver pen, business cards in a case, my iPad, a slim leather pocket planner, and an emergency supply of Yorkshire Tea bags!
My closet is full of… Way too many cardigans!
What is your style advice for other people in the industry? Don't underestimate the value of making a good appearance. Putting effort into your look tells your clients that you're detail-oriented and willing to go the extra mile.
Please list the designer (or store) of each piece of clothing that you wore today, including accessories and shoes. Jacket: Without Prejudice, London; shirt and pocket square: T.M. Lewin, London; trousers: Paul Smith; shoes: Gucinari; vintage watch: Sekonda; bag: Vida Vida leather.