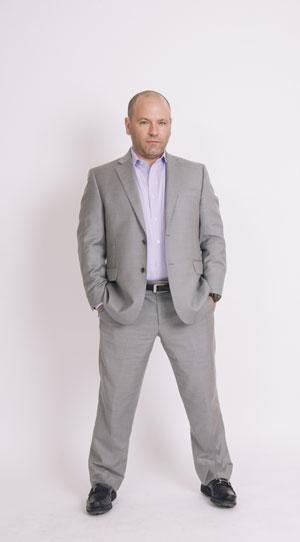 Number of years in real estate/lending: 22
Describe your look: Classic with an edge
What do you consider a "fashion don't"? An untailored suit/jacket/pants. A handful of people have the exact build to pull this off, but most do not.
What is your favorite piece of clothing and why? Jeans! I have so many pairs but end up wearing the same two to three pairs most of the time. After wearing suits and jackets all the time, I look forward to wearing something that's really comfortable.
What do you consider a must-have accessory? A classic, good-looking watch. I have a Panerai obsession.
Where are your favorite places to shop? I really shop at a lot of different places and at different price points. You can look great without spending top dollar all the time. Lord & Taylor, Saks, Hugo Boss, Natale's (in Norwell).
What, besides your wardrobe, completes your look? Ic! Berlin glasses (or their sunglasses, if I'm outside).
What is in your bag/brief case? You name it … laptop, chargers, cords, current business book read, business cards, gift cards and thank-you cards.
My closet is full of … suits, dress shirts, shoes and jeans.
What is your style advice for other people in the industry? Look professional but be yourself. You don't always have to wear that boring navy blue suit. But remember your client is buying/financing one of the biggest purchases they'll ever make in their lifetime.
Please list the designer (or store) of each piece of clothing that you wore today, including accessories and shoes.  Suit: Ermenegildo Zegna; Shirt: Hugo Boss; Shoes: Ferragamo; Watch: Panerai.