3 Boston suburbs among the best in the country, report shows
by Joe Ward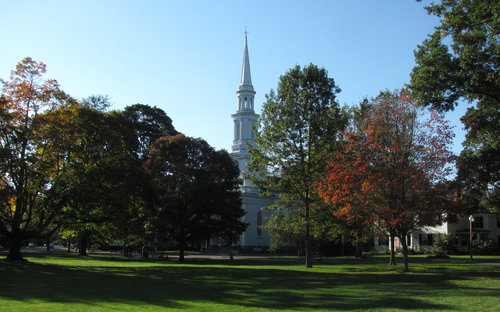 Boston is a sprawling metropolis with a complex of desirable and in-demand neighborhoods, but there are three suburbs that stand out, according to a new ranking of American suburbs.
Niche, a community-profiling site, recently released its ranking of America's top 100 suburbs. Included in the list are three Boston-area suburbs: Lexington (36th), Sharon (59th) and Sudbury (65th).
Each of the neighborhoods has a similar appeal: they are all wealthy enclaves with good schools and historic amenities. Here is a breakdown of the three ranking neighborhoods:
Lexington:
Considered the birthplace of the Revolutionary War, Lexington was recently ranked by WalletHub as having one of the best school system in the country. "It is a friendly, family oriented, environmentally conscious and affluent community," Niche writes. It is also not cheap.
Median home value: $736,000
Median household income: $149,306
Homeownership rate: 81 percent
Population: 32,000
Sharon:
This isn't Sharon's first time being named a great place to live – it was considered one of the 50 best places to live in Niche's 2013 rankings as well. It is considered more diverse than other wealthy suburbs and also scores high in school system and crime/safety. "Overall it is a very safe town with great neighborhoods and a variety of real estate options that one should consider if looking to start a family," Niche writes.
Median home value: $640,700
Media household income: $165,745
Home ownership rate: 94 percent
Population: 18,397
Sudbury:
A quiet, beautiful town, Sudbury is another historic gem in New England. With large lots and plenty of green space, the area is great for families. It's also been ranked the safest town in the state, according to Niche. "The populous is well educated, friendly and involved in the community," the report states.
Median home value: $464,800
Median household income: $224,444
Home ownership rate: 87 percent
Population: 17,995