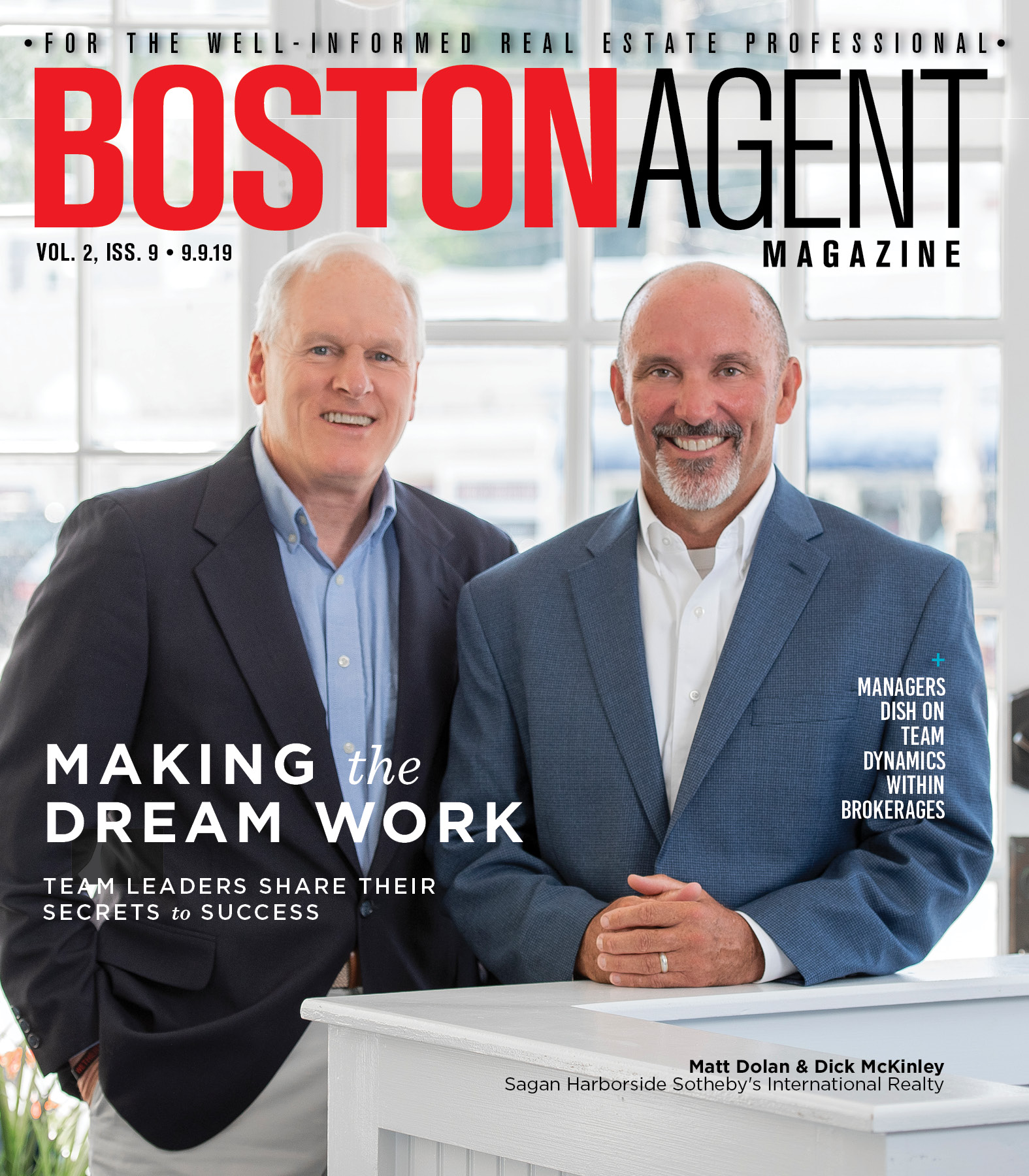 One in four real estate agents is now part of a team, according to a National Association of Realtors survey, and it's no wonder: Joining forces can help you exponentially amplify your sales volume, marketing, flexibility, and geographic reach. We spoke to three prominent real estate teams in the Boston area to find out how a collaborative approach has helped them succeed, and what unique challenges they face as brands within a bigger brokerage.
One of the most fundamental advantages of operating as a team is having more hands on deck, which can help you take on additional clients without sacrificing the service they receive (or your own sanity). "You hit a point where you're doing a lot of volume, which is great, but there's only so many hours in a day," says Matt Dolan, part of Team Harborside at Sagan Harborside Sotheby's International Realty in Marblehead.
Their six-member crew is on the large side: Only a third of teams in the NAR survey had six or more people on board, while the median team size was four. Team Harborside has three sales agents, including Dolan, plus an operations manager, a marketing director, and a market analyst, all of whom are licensed real estate agents.
Dolan, who joined the team about 10 years ago, says a dedicated support staff helps both the team and their clients. "Dick [McKinley], Cynda [Rohmer] and I, we focus directly on our clients and the sale or purchase of their home. It gives us more time to negotiate, to be out in the field," he says. The first addition was a transaction coordinator, to help improve client communication and make sure no one fell through the cracks. Then came in-house marketing and data analysis roles, which Dolan says offers them a competitive edge in an industry full of generic solutions. "We produce our own market reports instead of buying a canned product off the shelf," he says.
Someone's got your back
What's more, being part of a team ensures that your clients are always getting attentive service, even if you can't be the one to give it to them on a given day. "We can get back to people much more quickly, we can be in multiple places at the same time — it's very powerful," Dolan says. When he takes a vacation, he knows that his clients are always being handled by somebody with a vested interest in them, as opposed to a random colleague covering an open house. "Anyone who touches any part of the transaction, it's only a team member, and they have a vested interest in the success of the client," he says.
Pamela Cushing, co-founder of the Live in Luxury team at Douglas Elliman in Boston, is also grateful for the occasional breather that team partner Haley Cutter can provide. "Sometimes it's a 24-hour-a-day job, and it allows some work-life balance," Cushing says. A trio of junior associates helps out behind the scenes, but Cushing says it's especially reassuring for clients to know that, between the two partners, either she or Cutter will always be there. "If someone's attending a wedding or needs to get away, they can, and our clients are always supported."
And when it comes to strategy, Cushing says, two heads are better than one. "I might have one thought, Haley might have another," she says. "Our styles aren't the same, but they complement each other — we can usually finish each other's sentences."
Their one-two punch helps the pair resonate with different demographics, too. "I'm an empty nester and moved in 2005 to the city from the suburbs, so those folks can really relate," Cushing says. Cutter, meanwhile, has elementary school-aged children. "So if someone's talking about school systems or children's programs, she can be the one who's hands on and can speak to that in greater detail than I can."
---
---
A diversity of experiences and perspectives doesn't just help a team's clients, it can help agents grow professionally as well. Karen Landry, founder of the Landry & Co. team at RE/MAX Destiny in Cambridge, says some of her best training sessions occur when a team member encounters a challenge or new situation, and the geographically dispersed group discusses the issue in an online Zoom meeting. "We have conversations about a situation and what's the best way to handle it or what happened and how to handle it next time," Landry says. "That puts the entire team in the know of how to handle these real-world situations and makes them more of an expert in what they're doing."
A brand within a brand
Forming a team also allows you to create a more boutique image and brand — something modern consumers may value more than a big-name corporate logo. (Consider the varied, indie-sounding imprints that fall under the massive Marriott umbrella, like Aloft or AC Hotels.) Live in Luxury, in fact, began as an independent, boutique brokerage founded by Cushing — one that caught the attention of Douglas Elliman, not unlike the way small craft breweries are sought out by Miller-Coors or Anheuser-Busch. "They came after us pretty hard," Cutter says. "They courted us for about six months, and ultimately we fell in love with them."
That brokerage-team relationship can get complicated, however, especially when it comes to issues of branding and advertising. Some states have introduced new rules regulating how real estate teams market themselves — requiring, for example, that the company logo be at least as large as the team name. And while Massachusetts isn't yet among them, teams still need to be careful to adhere to the NAR Code of Ethics. To ensure consumers are aware of the brokerage they're dealing with, the name of the realty firm "must be disclosed in a reasonable and readily apparent manner," for example.
Cutter says that teams at Douglas Elliman, including theirs, are pretty easily able to carve out an identity within the larger brokerage. "There's always the Live in Luxury logo and the Douglas Elliman logo," she says. "When we need to be nimble and small, we are, and then we also have the benefit of a national and, with Knight Frank, an international backing. It's the best of both worlds for our clientele."
Landry tries to strike a balance between her own team's branding, which she says sets them apart, and the national marketing and tools offered by the bigger franchise. "It enhances what we have. The RE/MAX brand brings referrals, it brings international awareness, it's known for luxury," Landry says. "With those tools at our fingertips, it enables us to be a better team."
The backing of a bigger brokerage also helps when it comes to liability and insurance issues. "Even though I have my broker's license, I'm an associate broker and Douglas Elliman is the broker of reference on all our deals," Cushing says. That means the Douglas Elliman legal team in New York could step in if needed.
Team payers
The most common compensation structure among teams is a fixed commission split, employed at 38 percent of teams in the NAR survey. Another 22 percent used a graduated split.
Landry says her team is paid on a progressive split based on their production. "If they do any work outside of their own sales, like covering a home inspection, appraisal, or showing, then they're paid on a per diem for those tasks," she adds. "It enables some cash flow for them between sales. And then I'm only paying for something as I need it."
She also employs a graphic designer on a per diem basis, and is now looking for someone with a real estate license — a must if they're to open electronic lockboxes, she notes — who can handle some of the many operational duties inherent to the business, such as going to meet a photographer or home inspector at a property.
"A lot of team leaders are going to be a salaried position with a team member whose full-time job is doing showings, meeting appraisers, meeting the fire department for an inspection," Landry says. "Those positions are starting to pop up on teams all around the country, and I'm looking to emulate it."
Dolan is tight-lipped about Team Harborside's compensation model. "I think how we do that is a little better than others, but it would give competitors too much insight," he says. "We keep it so everybody has a vested interest in the client's success."
At Live in Luxury, Cushing and Cutter are 50/50 partners, and their junior members — two work part-time, one full-time — sign a contractor agreement annually. "It's flexible, because we have a lot of different scenarios," Cushing says. When junior associates are involved in a deal, "sometimes we partner with them 50/50 or just hand it off to them if it's their own lead and they procured a client from a personal reference," she adds. "Then there's a different split and everyone knows that ahead of time."
Building a winning team
Each agent we spoke to emphasized that finding true "teammates" was the most important part of building a successful real estate team.
Landry was an independent agent with RE/MAX Destiny in Cambridge for nearly three decades before hiring her first team member three years ago. Her first hire wasn't a top-producing agent — in fact, she was brand new to the business. "But I took her under my wing," Landry says. "She'd been a long time friend and worked for me 30 years ago in retail, I knew she had a great work ethic and she was coachable." Integrity and kindness are the two traits she expects from her team members, she adds.
Seeking recommendations from other colleagues, Landry slowly added more agents who were interested in being mentored; some worked out, and some didn't. Landry says there's truth to the old "hire slow, fire fast" saying. "You have to be very diligent in the type of people you hire, they need to be a reflection of you and the way you do business," she says.
Dolan says being part of a team has been so beneficial, his only regret is not joining or forming one sooner. "The advantage of being able to have a marketing person and that's their lane, their specialty—this is what they think about, how to better market homes and expand the office — if that's their sole purpose, they can do a great job," he says.
Still, Dolan notes that teams aren't for everyone. "I've seen people try to team up, and if there's no trust and people have dissimilar work ethics, it's just not going to work," he says.
Unlocking the value a team can provide hinges entirely on finding the right people, he adds. "You're trying to make one plus one equal three or four. If one plus one equals two, you're not really a good team."