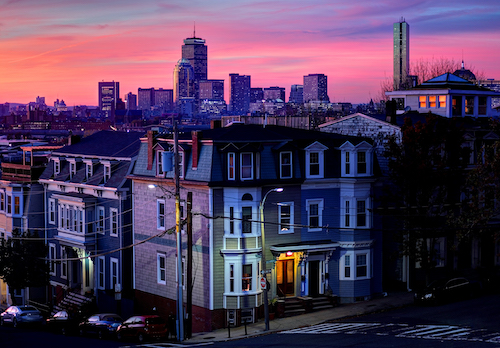 Mayor moves to add 515 affordable housing units
Mayor Marty Walsh's administration took some of its first concrete steps last week toward the city's plan to add 69,000 new housing units — 16,000 of which would be affordable to low-income families — by 2030.
According to a Feb. 20 press release, the mayor's office said it had organized a plan to draw around $26 million from three public funds to support plans to build or preserve a total of 515 units of affordable housing throughout several upcoming developments. A small portion of that total — 56 units — will come from converting existing apartments throughout the city into affordable units through deed restriction. The other 459 units will be built as part of planned or ongoing new construction projects around Boston. In most cases, these units will be held at rents or monthly mortgage payments that make them accessible to households earning 60 percent or less than the Area Median Income, currently equal to $65,000 for a family of four.
While some of the costs will be subsidized directly from public funding, the plan also calls for alternative methods to keep the affordable housing program sustainable. For example, homes for purchase under this program would be made available to low-income buyers via down payment assistance as well as opportunities for financial counseling.
"[The Boston Department of Neighborhood Development] is excited that we were able to fund projects with such deep affordability, ranging from 50 percent of the Area Median Income to homeless individuals and the elderly," said the city's Chief of Housing Sheila Dillon in the press statement. "I can't wait to see these projects completed, and I want to thank the Neighborhood Housing Trust, the Community Preservation Committee, and our partners in the housing community for helping us create more affordable housing in Boston."
Local lender named top mortgage originator of 2018
Boston's Shant Banosian of Guaranteed Rate was named the No. 1 mortgage originator in the U.S. by Mortgage Executive Magazine in the 2018 edition of its Top 200 list. With $536 million in total loan volume, Banosian led the list and helped Guaranteed Rate claim the most spots in the Top 200 of any lender — 175 Guaranteed Rate loan officers made the list, with three in the top five alone.
"We are blown away by this news and so grateful to work with the absolute best of the best in this business," said Victor Ciardelli, founder and CEO of Guaranteed Rate. "We couldn't be prouder of the hard work and dedication that these top originators and their teams put into serving our customers every day."
Statehouse speaker proposes $1 billion municipal fund for green projects, sans tax hikes
In other news on the long-term goal-setting front, Massachusetts House of Representatives Speaker Robert DeLeo and the legislature's Joint Committee on Telecommunications, Utilities and Energy are proposing the creation of a massive new green infrastructure fund. In a Feb. 24 press conference, DeLeo described for the first time his plans to allocate $100 million per year in state funds over a decade to create a $1 billion pool of money that Massachusetts municipalities can draw on to fund infrastructure related to mitigating the risks of climate change.
The plan sounds familiar to another recent proposal from Governor Charlie Baker, which would also seek to create a $1 billion green infrastructure fund by raising taxes on real estate transfers. This and other plans are part of a growing effort statewide to become carbon-neutral in the next few decades. By contrast, DeLeo's plan calls for creating the fund through borrowing.
In the press conference, DeLeo said his plan "is not meant to supplant any other ideas that are out there," and likened it to an environmentally focused version of MassWorks, an existing infrastructure grant program. DeLeo's plan is expected to come to a vote sometime before the end of the current legislative session.
Baker wants top-down zoning law changes
Gov. Baker's housing and real estate-related initiatives extend beyond simply opening up new funding sources. Along with many developers and other business groups, Baker also wants to tackle the state's housing woes through legal reform. Unfortunately, this has already proven more difficult.
Last year, Baker's administration was unable to pass legislation that would have changed Massachusetts laws so that local zoning rules could be amended with the approval of a simple majority vote by municipal officials. As it stands now, most cities and towns require a two-thirds majority vote by local lawmakers to change any zoning codes.
Proponents of this rule change, including builders and real estate developers, say this presents a major obstacle to new, affordable housing construction. In a Feb. 27 speech to members of the Greater Boston Chamber of Commerce, Baker said he would be looking to revive this bill in the current legislative session, although it's unclear if it will garner new support or simply fall victim to the same obstacles as in the past.