Cover story: How mortgage lenders and agents collaborate to succeed
by Andrew Morrell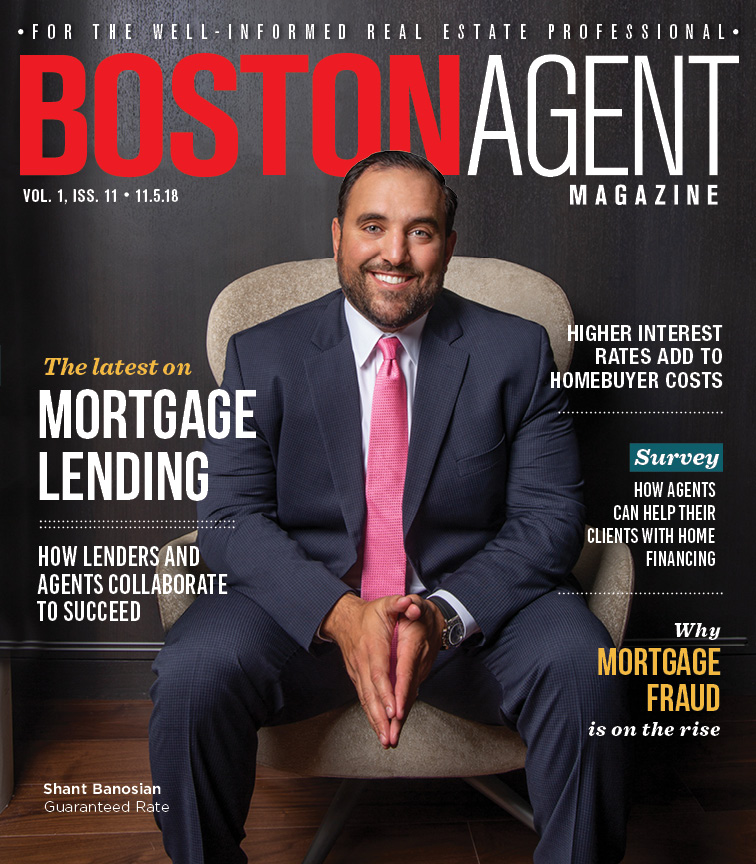 Boston's housing market has been as competitive as ever in recent years, not only for buyers and sellers, but for the real estate agents, loan officers and other professionals who support them. Mortgage lenders in particular are feeling the squeeze because of rising rates and the cyclical nature of their work, despite coming off some of their best years ever in terms of sales.
We spoke with three local mortgage lenders about the challenges and opportunities they face as the real estate industry hits an inflection point, and discuss how loan officers work with agents to forge mutually beneficial relationships that withstand the test of time, not to mention the changing tides of the housing market. Each of these lenders has seen results by understanding their communities and creating a strategy that takes their unique home financing needs into account.
Providing flexible solutions
Shant Banosian, branch manager of Guaranteed Rate in Waltham, came into his role at Guaranteed Rate shortly after it was founded in 2000. Founder Victor Ciardelli, according to the company's website, recognized that new technology could improve the customer's experience in getting a mortgage as well as reduce costs.
Today, Guaranteed Rate has loan officers in all 50 states, financing tens of billions in mortgages each year ($19.2 billion in 2017, putting them at No. 11 by origination volume that year).
Banosian himself has ranked as the company's top producer for the last three consecutive years, closing $457.9 million in loans in 2017. He says that Guaranteed Rate's focus on efficiency, along with the support of his talented coworkers, drive this level of success.
"Our value proposition to clients is that we get the most competitive rates, and have the technology to do it better and faster," he says. "Being able to close loans faster makes a big difference."
A sense of focus has helped Banosian and Guaranteed Rate weather the challenges that mortgage lenders face today. According to Fannie Mae's third-quarter survey of lender sentiment, most mortgage executives saw weak profit growth ahead as rising interest rates tamped down refinancing activity. Pursuing refinancing deals earns higher margins than funding loans for home purchases, but few borrowers are in a position to refinance now that interest rates are rising again.
"The term you are hearing a lot now is 'margin compression,'" Banosian says. "In a rising rate environment, some originators are not as busy, and companies get desperate to make up that volume by lowering margins. It's fierce out there."
Banosian said Guaranteed Rate has fared better than most because of its focus on the purchase market over refinancing. Its status as a nonbank lender gives it a degree of flexibility that traditional banks may not have. Nonbank lenders have made huge gains in market share in just the last decade, often by marketing directly to consumers or touting their streamlined loan approval processes.
Banosian attributes his own success to some of these same trends, but still relies primarily on his connections with real estate agents to perform at a high level.
"Real estate agents are the biggest part of the success I've had," Banosian says. "Agents want to work with loan officers they trust, and they trust them because of their competency and character."
Ultimately, he says his job isn't just to finance loans for the agent's clients. "It's to make them the agent look good." Banosian makes himself available to agents and their clients as much as possible to answer their questions about the notoriously complex mortgage application process. But time is of the essence, especially in Boston's hyper-competitive market. Sellers have the advantage and often find themselves in a multiple-offer situation.
Banosian only works with homebuyers, so he needs to act quickly to get them what they need to make their best possible offer. Guaranteed Rate now often provides clients with commitment letters, a step above pre-approval that is essentially the best card a buyer can play if they find themselves competing with other offers. Automating some of the underwriting process, by gathering bank statements and credit reports directly from the source rather than relying on clients, is one way Banosian and Guaranteed Rate lenders streamline transactions to make this possible.
---
Read more from our Mortgage Lending Issue:
---
When clients are happy, so are their agents, Banosian says. He keeps the relationship going by hosting seminars and training sessions for real estate agents. These could involve briefing them on the latest housing market data to showing them how Guaranteed Rate's tech platforms speed up the approval process.
"We want to be collaborators in their success," Banosian says. "That helps them differentiate themselves in a competitive market."
Expanding their network
Rising interest rates and margin compression hits nonbank lenders hard, but there are other ways for lenders to diversify their revenue and stay afloat in tough times. Many small- and mid-sized banks around the U.S. have seen success growing their mortgage lending operations more broadly than was common in the past. Wintrust Financial is one company that has done this through its network of subsidiaries and partnerships. Wintrust is based in the Chicago area, but has lenders like Drew Grandi in Boston who are licensed to lend in all 50 states.
"The tagline I like to use is that Wintrust is a bank disguised as a correspondent," Grandi says. Over the years, Wintrust has acquired smaller regional banks, first throughout Illinois and then around the U.S., but maintained the consumer-facing branding of many of those branches. The company currently has financing from about 30 different investors, which results in better execution on the pricing side, Grandi says.
While there are now a wide variety of nonbank correspondent lenders in the market, they often tend to specialize in only one type of mortgage, like jumbo loans, government-backed loan programs through the FHA or VA, or something else. Wintrust's size and scope affords it the resources to compete in all of these markets. Plus, the company's focus on independence of its subsidiaries means they aren't fixated on cross-selling, like the biggest bank lenders tend to be.
It's still challenging for Wintrust to gain a foothold in such a competitive market, even with its strategy, and the current housing market is only narrowing any chance at increased profitability.
"Loan officers today are pursuing fewer deals, or more deals that are losing money," Grandi says. "This is maybe the most price competition I've seen in 15 years."
That's why Grandi recognizes the value of establishing a deeper connection, not just with real estate agents but with other financial professionals, too.
"You have to expand beyond real estate agents, because 15 other loan officers in your market are trying to do the same thing," he says. "I'm working more with financial planners, attorneys, insurance agents… For a lot of financial planners, their client's biggest liability is their mortgage."
His value proposition to these other agents is simple: Grandi can help them reduce their client's biggest monthly expense, whether they are buying a new home or refinancing to cash out of their existing loan, or even converting it into a different type of mortgage that can be paid off sooner.
"At the end of the day, it's a similar premise: it's quid pro quo," he says. "Your value proposition is to help them help their clients. And even if you don't get their client's business, I guarantee it will come back to you somehow, some way."
Focusing on the community
Luisa Bedoya, vice president and senior mortgage planner with MSA Mortgage in Revere, takes this idea of honing a consultative approach to a high level. Born and raised in Colombia, Bedoya is fluent in Spanish and is uniquely committed to serving the underrepresented Latino homebuyer market in the Boston area.
"The majority of my clients are Latino, so I have witnessed firsthand the dramatic surge in Hispanic homeownership," Bedoya says. "I recently read that Latinos are expected to make up 50 percent of the new homebuyer market in the next few years, and this is fueled in large part by the increase in Latino millennials with access to affordable, low-down-payment lending products."
Bedoya explains that contrary to what some may believe, the Latino community in the U.S. is driven to homeownership as a means to establish stability for their families and even future generations. But the language and cultural barriers aren't all that make this goal difficult for them.
"A lot of people I talk to don't have credit, they don't want to get a loan because they don't want to get in trouble, or they think it's hard to build credit," she says. Mortgages are complicated for anyone, but that's even more true for members of the Latino community who may not have full citizenship, or who are small-business owners, or who are simply unaware of the details involved.
So Bedoya takes on the role of financial planner and coach for many of her clients — or those who could become clients someday — to dispel myths about obtaining a mortgage as a Green Card holder, for instance, or to help them build a credit profile from scratch.
"I ask them, 'what are the stores where you like to shop?' and help them apply for a store credit card, for example, then work with them and teach them how to use it and pay it off each month — and within a year they have excellent credit," Bedoya says. She's able to lend a helping hand to the local Latino community through multiple channels: hosting seminars, attending events, taking calls on a Spanish radio show (she appears on 1600AM WUNR a few times per year to answer questions about mortgages and personal finance), or simply meeting people in her office.
"Customers call me for advice, to tell me their experience, or simply say thank you," Bedoya says, whether it's during normal work hours or over the airwaves on the weekend. "Even if they don't become a customer, I am happy to help people. I've even made a lot of friends that way."