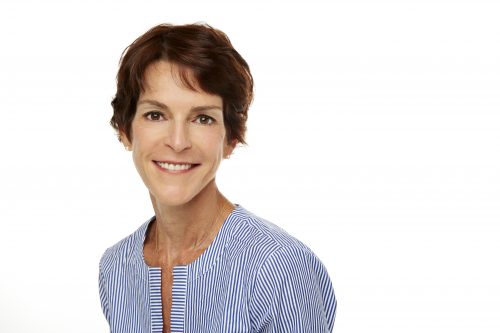 Name: Judy Goldfarb

Job Title: Realtor – residential sales

Company: Coldwell Banker

What was your first job in the realty industry? Sales associate with Coldwell Banker, many moons ago in 2005.

Where did you grow up? Princeton, NJ

Growing up, what did you want to be? A prima ballerina or fashion designer. I made it just far enough in both to realize that maybe it wasn't happening. I can't watch "the nutcracker," ever again.

What do you do to relax when you're stressed? Vinyasa yoga and singing rap lyrics in my car. Loudly.

If you could have lunch with a well-known figure (living or not), who would it be and why? Hmm, so many. Amelia Earhart.

Where is your favorite place to hang out? Bar Mezzana or Singing Beach in Manchester-By-The-Sea.

What do you love most about the industry? The satisfaction I get from enabling my clients to meet their RE goals, the relationships with clients and colleagues, and the constant change- new wonderful clients, new inventory, new challenges and rewards.

How do you distinguish yourself from the crowd of agents? I love what I do, it doesn't feel like work. My clients pick up on that positive energy and as a former litigator, my negotiation skills are my ace in the hole.

What is the most difficult aspect of your job? The bidding wars when I have the buyer, stressful. Also, no wants to deliver bad news even if it all happens for a reason.
Where do you go to network and meet new clients? Most of my new clients are referrals, but my wine club, brown alumni group, and gym are also great resources for business development.

What has been your greatest accomplishment? Reaching top 2% of Coldwell Banker sales associates worldwide and earning my client's repeat business time after time.

What was the last good movie you saw or book you read? The new documentary on Alexander Mcqueen. Remember that fashion designer fantasy??

What is your favorite restaurant? It's a tie between Bar Mezzana and SRV.

Architecturally speaking, what is your favorite building in Boston? There's so many- Trinity Church, 65 Commonwealth, and Ayer Mansion at 395 Comm.

What kind of car do you drive? Audi A4 – I'm on on my 3rd.

Smartphone or paper? Smartphone! And sticky pads next to it.

What is your favorite city after Boston? New York

In 10 words or less, what is your advice for someone new to the industry? If you maintain common sense, an insane work ethic, and genuinely like people, you may be able to succeed.

What's your favorite real estate iPhone/Android app? MLS
---
Want to be featured in our Agent Snapshot? Click here and complete this survey. Agent Snapshots are published on our website and shared in our newsletter and social media feeds.