How agents succeed in the luxury specialty
by Timothy Inklebarger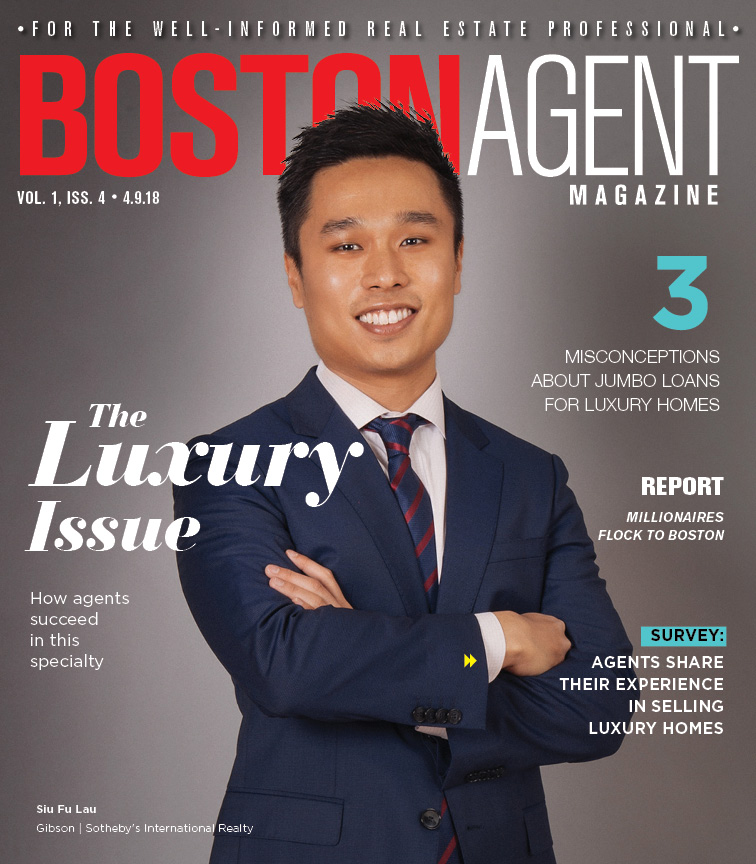 Real estate agents in Boston have seen the luxury market grow from one that was always competitive nationally to a global market attracting wealthy international buyers willing to pay prices like those seen in New York and San Francisco.
The city's longtime inventory shortage has ratcheted up competition in the luxury market, which is creating new challenges, but also new opportunities.
Dealing with buyers takes nuance and understanding clients' needs — whether they're Bostonians, international buyers or those relocating from another luxury market in the United States. Agents say urban luxury buyers also have different needs than their suburban counterparts, as do Generation X buyers versus millennials and empty nesters
Sizing up clients and figuring out how to present the product likely will be the key to broader interest and closing more deals in 2018, according to some local experts.
Challenges and Benefits
P.T. Vineburgh, founder of Charlesgate Realty Group, says sophisticated luxury clients have high expectations from agents. "To me, I think it's just your level of expertise and the correlating value that expertise will add to a transaction," he says. Luxury clients are savvy and often believe they have enough information available to do the work themselves. "You have to prove you can dive deeper into that information and add value to that," he says.
Clients can look at buyer data for a specific neighborhood but might not catch the nuances of submarkets within an area, Vineburgh says. "There are certain streets in Boston whether you're on one side of the street or the other, there can be huge swings in value," he says. "Someone from San Francisco or Los Angeles might not be able to sort that out."
Tony Guthrie, a Realtor with Robert Paul Properties who specializes in the Boston suburbs, says luxury customers in the urban center are different from those in farther-reaching communities, because while the former is frequently looking for something immediate, the latter often is a discretionary buyer. He explains that a lack of new construction in the metro area means more older homes in need of renovation.
"Most high-end buyers are not up for a project; they'd rather buy something turnkey and done than something in a great location where they have to take on a new project," he says.
Guthrie says he leverages his relationships with architects, interior designers and others to manage renovation projects for clients. "My goal is to make the transaction easy for them, so I offer services for managing (renovation) projects," he says.
---
Read more from our luxury issue
3 misconceptions about jumbo loans for luxury homes
Survey: Agents share their experience in selling luxury homes
Report: Millionaires flock to Boston
---
Turnkey properties also are the norm for Siu Fu Lau, an agent who deals primarily with international clients in Boston for Gibson Sotheby's International Realty. Lau says he often takes a different approach with international clients who purchase luxury property as an investment or as an alternative to staying in a hotel while traveling for business. Local buyers are often more emotional in their decision making because of their connection to the city, while international buyers are frequently "shocked" by the price.
"I think you have to know the market very well to be able to explain (the distinction between the various housing stock) in Boston," he says.
What luxury buyers want
High-end finishes, designer kitchens, outdoor spaces and walkability are among the most sought-after amenities for buyers in the city, but when it comes to luxury homes in the suburbs, there's also "great demand for quality schools," according to Lau. He says young families are still moving to the suburbs, while millennials and empty nesters often seek an urban environment.
Guthrie says high-net-worth buyers also are increasingly interested in new construction. Older buildings with smaller rooms and low ceilings "don't necessarily work for people," he says. "Also, people are not wanting to be on several acres; people want to be more connected," he says.
Vineburgh also cites technology as a highly sought-after amenity by luxury buyers. "Web-based HVAC, controls to different home automation, security lighting, electric car charging — those things are more important in the luxury market than they were five years ago," he says
Setting the stage
Staging can make or break a sale, and agents all have their own approach, but there's a general rule among luxury brokers: don't condescend to buyers.
"I want them to relax and enjoy the space," says Guthrie, who leverages his 30 years of experience in the hospitality business. "I take a quick tour and then I get out of the way and let them take it all in. They are sophisticated buyers, so they know the finer things."
Vineburgh says he works with a company that provides high-end furniture for stagings, which is incentivized to bring its best products with the goal of selling pieces directly to homebuyers.
Lau says staging is really about helping a buyer mentally picture what they can do with the space. He waits for sunny days to photograph the unit to "create an emotional effect" for buyers.
Boston a haven for luxury
While Boston has long been known as one of the top-five most expensive housing markets in the country, the most expensive homes are now approaching prices seen in New York, according to Vineburgh. "A high percentage of the new luxury units in our top most affluent neighborhoods are between $2,000 and $2,500 a square foot, which was not the case even three or four years ago," he says.
Following a nationwide trend of luxury homes getting even more expensive, ultra-high end properties in the core suburban market between $3 million and $10 million have held their value, while those between $1.8 million and $3 million have softened, Vineburgh says.
Guthrie says that the real-estate catchphrase of "location, location, location" still rings true, with buyers increasingly willing to overspend if a suburban home is in a good location and in fair condition. "But if it's in a fair condition and a mediocre location, then the price needs to reflect that," he says. "Oftentimes people think that if it's in a good location, they can ask top dollar, and that's not the case anymore. Buyers are savvy, and they don't want to take on a project and pay top dollar."