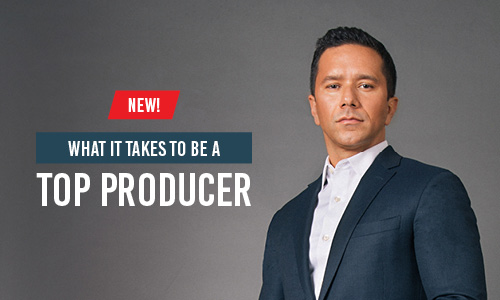 To real estate agents, "top producer" can mean a certain level of success, a yearly award added to the trophy shelf and a means to a more exclusive clientele. To some consumers, the phrase can indicate the level of experience and expertise of an agent, while some consider it a confusing marketing ploy. There is no standard definition of a top producer. But being labeled as such can mean great things for an agent's business: it can unlock newfound confidence and open new doors.
Top producer awards are usually handed out by individual brokerages or local Realtor associations, and the standards can vary. The classification can be awarded for sales volume — as a percent of the company's overall volume or for anyone who reaches a certain monetary threshold — or it can be for a certain number of units sold. Some are the top earners of their brokerage nationwide, and some are top producers of certain areas. But for most, being labeled a top producer is a validation of a lot of hard work.
"It's a point in a career of an agent where they've reached a very specific milestone in terms of their performance," said Ricardo Rodriguez, Realtor with Ricardo Rodriguez & Associates, whose $130 million in sales in 2017 put him in the International President's Premier level of top producers of Coldwell Banker. "It's more about somebody being at the top of the game and bringing something to the industry that makes a difference."
How to get started
While the top producer label hints at a certain kind of success and status, everyone's path to becoming a top producer is different. There are, of course, some overnight successes. Most agents, however, have to put in at least a few years of hard work before earning the designation.
For Beth Dickerson, a broker with Gibson Sotheby's International Realty, a humble start in Boston real estate eventually gave way to big successes. After deciding to focus on a small cluster of Boston neighborhoods, Dickerson said she grew a reliable client base that is the basis of her top producer status — she closed over $100 million in deals last year, she said, including one deal that was her seventh with just one client. "For me, I think it was probably five years" until she broke through to top producer status. "I started selling when I was very young. I've never really had to go out and cold call."
Rodriguez too needed about five years before breaking into the big time. "The first four or five years were the grassroots-level type work," he said. "You're establishing yourself in the business, working to differentiate yourself in the business. I was also very focused, always looking to build my business."
Lynn Donahue and Donna Maley, of the Donahue & Maley team, started in the business eight years ago and have always been some of the top producers at Benoit Mizner Simon & Co. But after some quick learning and top-notch coaching, the duo quickly rose to become top producers in Wellesley. Within four years, they were in the top 10 percent of agents in their area, they said.
"We work hard, we're reliable and we've had unbelievable training," Donahue said.
Maley said being mentored by Debi Benoit, a top producer in Wellesley, was key to their success. "She took us under our wing," she said. "She's been the top in our community forever. We learned how to do it the right way and learned the commitment you need to make."
Being a part of a team helped, too, Donahue said. "We started out as a team before teams became hip. Ultimately, we did it because we were scared," she said with a laugh. "There is so much synergy that is involved. People say they can't be in two places at once. Well, we can. It's unbelievable how much business we can do."
---
Read more from our Top Producers Issue
---
What changes?
New clients, confidence and career opportunities can come with being labeled a top producer, which can easily translate to more sales and success.
"It just gives them a certain reassurance that we can get the job done, that we know how to do it," Donahue said. "It's like for everything else. If that person is ranked the best, you're going to give them a call."
Expertise and experience go a long way, and having top producer status can help in projecting that, Dickerson said. "If you do sell that kind of volume, it's obvious you're not a novice, that you know what you're doing," she said. "People are looking for someone they can trust, that they like. They want someone who will work hard for them."
Top producer status can help agents reach a different tier in the industry, or at least give one the confidence to try it. Because just reaching top producer status does not guarantee future success.
"I think it opens doors," Rodriguez said. "It also creates a challenge in that you're also competing with people at that level. It keeps you on your toes. I often am competing with people who do more business than I do. I have to make sure that my name resonates."
Rodriguez said successfully integrating into the top tier of Realtors takes strategic planning and a lot of hard work. Expectations are always changing. You need to see that you are meeting those expectations, but also going above and beyond," he said. "One of the most important things is that, regardless of where you are in your career, it takes hard work."
Traits of a top producer
The expertise it takes to become a top producer has to be gained through experience. There are ways to fast track that experience, however, and that's to have an area on concentration. That could mean specializing in a certain area or a certain client or home type. Focusing on one area can help quickly build knowledge and experience, especially if the alternative is to cast the widest net.
Donahue and Maley settled on Wellesley and quickly became sought-out experts in the area. Similarly, Dickerson has spent much of her 30-year career focusing on the Back Bay, Beacon Hill, Waterfront and South End neighborhoods. That's not a huge swath, but it's an in-demand area where she is a foremost expert. "I've been selling real estate in downtown Boston the whole time," she said. "I've never really branched out. A lot of my business has come from referrals."
Rodriguez decided early on to concentrate on new construction. After settling on a path, he then drafted a plan of action.
"I felt there was a void in the way in which I wanted to do it," he said. "You need to know where you want to be in the next five to 10 years. You need to know where you want to be in the business. It's perseverance, it's focus. You have to be able to manage that day-to-day operational stuff while keeping an eye on how you're going to grow your business."
Being a top producer doesn't mean much if you don't market it, and you're probably not a top producer if your marketing skills are not up to snuff. Once an area of concentration has been selected, own it and get the word out, Maley said. "We certainly learned a lot about branding over the years. Sellers have access to a lot of information," she said. "They want to know who's the best, and who's doing the most business. And if they don't know if your name, but they see you on a list of top producers, they're more likely to give you a call."
Dickerson said much of her success can be attributed to hard work. "Honesty and integrity — people are looking for someone they can trust, that they like," she said. "They want someone who will work hard for them."
And there's nothing wrong with going and and getting what you want. "I wouldn't wait for the phone to ring," she said. "If you don't ask for business, you won't get it. It's OK to ask friends and family, wherever you meet people, at the bus stop or the grocery store. It doesn't matter. Just always mention that you're a Realtor."