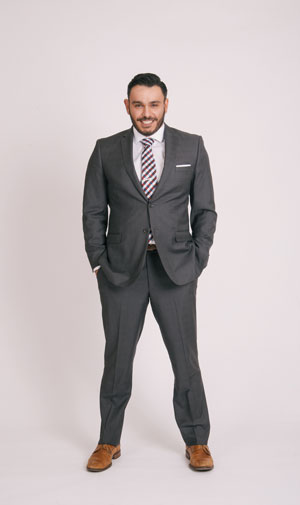 Number of years in real estate: 5 years.
Describe your look: I guess my "look" would have to be a well-tailored suit, a clean pressed dress shirt, tie and a pocket square to finish off the outfit. Other than that, you'll probably see me in fun colored khaki pants and a dress shirt and a quarter-zip fleece.
What do you consider a "fashion don't"? Brown shoes with a black suit… Or belts that don't match the shoes. YUCK!! 
What is your favorite piece of clothing and why? I'd have to say a well-tailored suit jacket or blazer. Because nothing says I am here to do business than a power suit-ish appearance!!
What do you consider a must-have accessory? Watch, tie clip and a pocket square.
Where are your favorite places to shop? I like to shop all over the place, but my go to would have to be Barney's, Saks 5th Ave, Vineyard Vines and occasionally I'll splurge at Gucci.
What, besides your wardrobe, completes your look?  Without a doubt, it would be a haircut.
 What is in your bag/brief case? My MacBook and signed contracts…HA!!
My closet is full of… Shirts, shoes and fleeces and, of course, suits.
What is your style advice for other people in the industry? Be yourself, they're no guidelines that any agent/broker should follow.
 Suit by Ralph Lauren; shirt by Express; tie by Brooks brothers; shoes by Cole Haan