My Style: Emily Ingardia, Realtor, Donnelly & Co.
by Joe Ward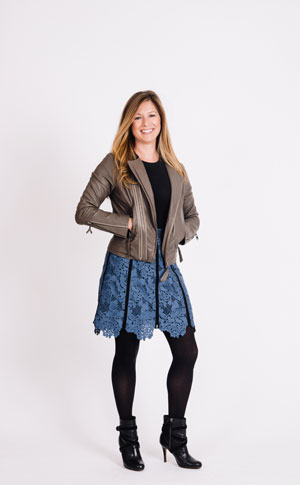 Number of years in real estate: 7
Describe your look: I would say that I am feminine with a bit of an edge. I like to have fun with my clothes but like to think I can be serious and sassy with my outfits at the same time.
What do you consider a "fashion don't"? The choker…why did that ever make a comeback? I look at someone with one on and feel my throat close up and I can't breathe for them!
What is your favorite piece of clothing and why? One of my many rompers. Who doesn't love a romper? They are super comfortable, playful, can be dressed up or dressed down.
What do you consider a must-have accessory? A watch. The bigger the better.
Where are your favorite places to shop? I love clothes but I actually don't love to shop. I have a friend who is a personal shopper at Sak's so she is a HUGE help in getting me in the door, staying focused and walking out with fabulous staples. Other than that I like Anthropologie, Madewell and Nordstrom Rack.
What, besides your wardrobe, completes your look? I guess my hair…it tends to display my mood for the day but is ultimately at the mercy of the weather.
What is in your bag/brief case? Phone, wallet, energy bars, gum, hand lotion, sanitizer, computer, note pad, pen, Aquaphor, cough drops and lots of receipts.
My closet is full of… a little bit of everything. Mostly shoes, sweaters, jeans and dresses.
What is your style advice for other people in the industry? Be practical. We find ourselves in basements, on roofs, walking on Cobblestones, out in the elements and attending social events. Your clothes have to represent you but need to be versatile to get you through the crazy days we can have and last through an evening out with clients.
Skirt by MSGM Milan; top by Theory; leather jacket by Joie; shoes by Cole Haan Nike Air; Boston bracelet by JOYO; watch by Michele; earrings were a gift from a shop in Beacon Hill