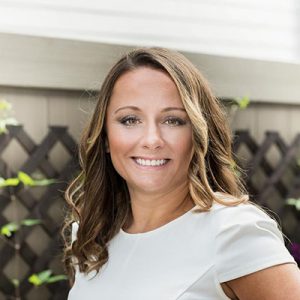 Name: Heather Carbone

Job Title: Realtor

Company: Big River Properties, South Boston

What was your first job in the realty industry? I was a landlord when I was 23.

Where did you grow up? Newington, CT

Growing up, what did you want to be? A drummer in a band or part of New Kids On The Block. I loved them!

What do you do to relax when you're stressed? Golf, entertain friends, cook, travel and read.

If you could have lunch with a well-known figure (living or not), who would it be and why? Barbara Corcoran. I really admire her path to success and how she has made it on her own!

Where is your favorite place to hang out? My backyard pool in the summer with good friends.

What do you love most about the industry? There's always a new challenge, new personality and new deal. Nothing ever stays the same.

How do you distinguish yourself from the crowd of agents? I add value by seeing ways to increase a home's equity and lifestyle component, both pre-existing homes and new constructions. There's lots of ways to maximize space, and having seen so many homes I see things that homeowners don't always see.

What is the most difficult aspect of your job? Trying to juggle the many hats that I wear. I go from realtor, to financial advisor, to job site supervisor multiple times during any given day.

Where do you go to network and meet new clients? I go through friends, other realtors, bankers, social settings, on planes, trains and automobiles! You never know where you will meet someone that can become a client.

What has been your greatest accomplishment? Moving to Boston while only knowing one person, and from there starting my own businesses in Southie, growing my RE portfolio to include flips and multiple buy and hold properties. Each accomplishment is unique in its own way so its hard to break it down into one favorite.

What was the last good movie you saw or book you read? "The Panama Papers," were very interesting to learn about. I love documentaries.

What is your favorite restaurant? Outback Steakhouse

Architecturally speaking, what is your favorite building in Boston? The Boston brownstones.

What kind of car do you drive? Scooter

Smartphone or paper? I keep my calendar on paper, old school style, but can't do this job without a smartphone.

What is your favorite city after Boston? Charleston, SC for a U.S. city and Madrid, Spain for an international city.

In 10 words or less, what is your advice for someone new to the industry? Every transaction and introduction is an opportunity to learn and grow.

What's your favorite real estate iPhone/Android app? Bigger Pockets

Who are your favorite people to follow on Twitter? I find Instagram a better platform to tell my story and follow the stories of others.
---
Want to be featured in our Agent Snapshot? Click here and complete this survey. Agent Snapshots are published on our website and shared in our newsletter and social media feeds.