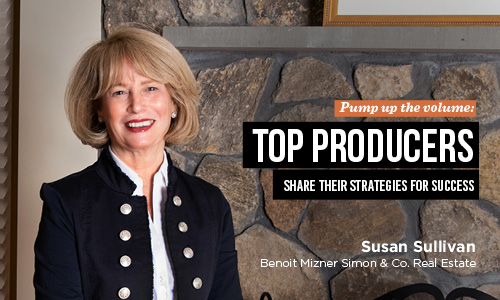 Making the magic happen in real estate, reaching the highest level of production year after year, does not involve smoke and mirrors; it's all about hard work, perseverance and confidence in your ability to get the job done. All top producers have a bag of tricks, strategies they use to close deals that have proven reliable over the years. Boston Agent magazine spoke with three local top producers about their winning strategies and tips for newcomers with high aspirations.  
Ask questions
A decade into Susan Sullivan's career, a flood of referrals and resales led to her earning the title of top producer. Even so, Sullivan, of Benoit Mizner Simon, still feels badly thinking about the times she lost listings to top producers. Rather than wallow, she would ask the sellers a lot of questions to find out why they chose someone else.  
"Sometimes I would lose a listing because I wouldn't give the seller the price they wanted," she said, noting some real estate professionals will give in to over-pricing at a sellers request only to have it result in price reductions later. If it did sell in a week, she would use that information to talk about pricing with the next client. "I may have lost a listing but when I gain a listing, I'm using data and giving an honest, realistic price on a house," she said. "And it might get multiple offers if it's priced right." Based on Sullivan's experience, there are three keys to selling a house: pricing, timing and luck. "If it's not priced right, it won't sell," she said.
Make a good first impression
Sullivan thinks it's important to look polished and listen when meeting clients for the first time. "Let them show you the house and listen to what they have to say about it," she said, noting what they like about the house can be used as selling points for prospective buyers. To make them feel comfortable, she suggests modeling their behavior. "If they are not a big talker, try not to be a big talker."
Don't miss a lucky break
Sometimes all it takes is a lucky break. At least, that is how it happened for Michael Carucci, executive vice president of Gibson Sotheby's International Realty. During his first three years in the industry, his focus was on-site marketing, selling homes in one of the first conversion condominium developments in Boston's Back Bay, that surpassed more than $200 per square-foot, an unheard-of price at the time—the 1980s. Fondly, he recalled bringing in legendary broker Philipp Jordan to help him and completing the project in about 18 months. Another high-end opportunity followed and from there, he became a top producer, maintaining the title throughout his more than 30 years in the business.
---
"You cannot do this type of business on your own."
---
Producing at a high volume each year builds confidence, Carucci said. "What changes when you become a top producer is your time management and your dependence on other people. You cannot do this type of business on your own." He prefers to not get tied up in the administrative aspects of the job. Instead, he delegates those tasks and focuses on bringing in business and closing it.
Mimic the habits of top producers
Carucci recommends studying what successful agents are doing in similar, high density urban markets, like Boston, New York and Seattle. "Take a little piece of an idea from this top producing agent and that top producing agent and create your own identity," he said. He also suggests new agents learn to be prudent business managers by budgeting, forecasting, setting goals and reading industry publications. With too many agents out chasing a smaller number of deals, Carucci advises those who are new to the industry to align themselves with a good, supportive company and network constantly to become known as an authority in the area.
Personally, he differentiates himself from the competition with his passion for what he does, attention to detail, concierge style service, patience and solid relationships with other brokers.
"We are very client focused," he said, noting he always "means what he says and says what he means." In an industry with no shortage of competition, Carucci thinks that new agents need to be patient and have savings in the bank because it takes awhile for closings to happen.
After all these years, he doesn't think there are any drawbacks to the top producer title. He still has to  be aware of the competition and focus on the skills that got him here: persistence, diligence and vision. Now that she's a top producer, Sullivan said people know who she is, which makes her job easier than it used to be. But it's still work.
Build name recognition
Everyone in Gail Roberts' "sphere," from the drycleaners to the pharmacist, knows what she does for a living and she couldn't be more pleased.  
"You have to be out there and talk about what you do," said Roberts of Coldwell Banker Residential Brokerage in Cambridge. Wherever she goes around town, people recognize her. "They will stop me and say, 'I saw your ad in Boston Magazine and when we're ready to sell, we'll call you,'" she said. Based on her experience, you have to market to the same people six or seven times to get recognized. Send them "just sold" cards and new hire announcements. If you market to different people each time, it's hit or miss. Also, avoid putting a lot of verbiage on marketing materials; people won't read it, and pay close attention to photos, making sure homes present well—toilet seats in bathrooms should be down and surfaces free from clutter.
---
"Be out there as much as you possibly can."
---
People know Sullivan because every season—winter, spring, summer and fall—she advertises in different magazines that circulate throughout her territory. "Be out there as much as you possibly can," she said.
Support the community
Roberts believes that every broker in a community should make an effort to give back, not only to make a difference in people's lives, but to build brand awareness at the same time. She is active on five nonprofit boards and hosts an annual Halloween party at the Harvard Museum of Natural History to connect with clients and prospects. "I think top producers have to go out there, get involved in something, whether it's your school, a religious organization or an art association," she said.
Not surprising, it has worked out well for her. In 2018, Roberts sold 12 Lakeview Avenue in Cambridge for more than $15 million, the area's highest sale listed on the MLS. She has been in the business for 37 years, a career that started out part-time but quickly turned full-time when she realized it was the only way to become a top producer.  
"Our business is not 9 to 5," she said. "If you want a 9 to 5 job, don't come here." Knowing she cannot do it alone, she is grateful for her team, who allow her to stick with what she is good at and leave the rest to them.
Find a mentor
Sullivan vividly recalls running up against top producers early in her career and stumbling until she realized that she might lose two or three listings but then land one. "You don't go to school to learn this business," she said. "You learn by doing."
She recommends new brokers do what she did and offer to assist top producers with open houses since they usually have five going on at once. "You see people come in and talk with them and get comfortable with what needs to be said and done," she said. "That helps with self-confidence. Every once in a while, you'll pick up a buyer, go out with people, learn how to write offers and learn the business."
---
"You don't go to school to learn this business. You learn by doing."
---
Roberts said top producers must have knowledge of the area, know their market, offer to help people, keep in touch with clients and chart their territory. "If you're new to the business, pick an area that other people haven't picked, start there and build your own sphere," she said.
Remember to pay attention to the little things that mean a lot, Roberts said, like keeping a clean car and not sharing clients personal business with anyone. She is also a firm believer in coming to the office, to avoid missing out on opportunities. "If you're working from home, you'll never hear me say, 'come look at this property with me.'"
Take care of yourself
Roberts thinks it's important to work out and do things for yourself to unwind, like meditation. "I try to take time to breathe, even if it's only when I'm driving in my car," she said. Unanimously, Carucci, Sullivan and Roberts all agree that the secret to becoming a top producer is having a passion for the business. If you do, then anything is possible.