Agent Snapshot: Antonio Khoury, SVP, Compass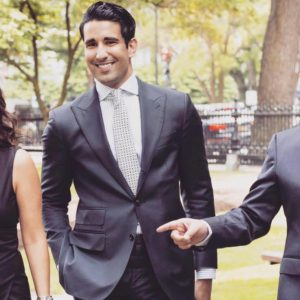 Name: Antonio Khoury
Job Title: SVP – Compass, Founder – DeRocker & Khoury
Company: Compass
What was your first job in the realty industry? A real estate agent.
Where did you grow up? Coming from a mixed background, I had the opportunity to live in a few different countries. I spent most of my life in the Dominican Republic and Lebanon. At the age of 17, I moved to Hingham MA. These experiences have shaped who I am today and have allowed me to have a competitive advantage that one simply can't find in a classroom. With the ability to speak 4 languages fluently I can understand and adapt to a variety of cultures, which allows me to relate to international clientele and facilitate a seamless transaction in a way that most can't.
Growing up, what did you want to be? When I was really young, I actually wanted to be an astronaut. As I grew older, I became most interested in real estate and becoming an agent and developer.
What do you do to relax when you're stressed? I love playing basketball or getting out and skiing when possible. I also started acupuncture recently which I have found to be very helpful for both recovering from trainings and stress management.
If you could have lunch with a well-known figure (living or not), who would it be and why? Barry Sternlicht. I really admire what he has been able to accomplish in his career.
Where is your favorite place to hang out? Definitely at home or with friends.
What do you love most about the industry? I love that everyday is a new day filled with possibility. After all, what could be better than helping someone find their home?
How do you distinguish yourself from the crowd of agents? I take my relationships very seriously and treat each client with the same level of dedication and care. Whether I'm helping an international client or a local one, I'm able to curate a collection of homes that are best for them and will work tirelessly to secure them the best possible deal. At the end of a transaction it is the client's satisfaction that matters to me. I feel lucky that I have clients who then go on to trust me with referrals to family members and friends. There is no greater reward.
What is the most difficult aspect of your job? I think just explaining to a buyer or seller that sometimes the market reality is different from where their expectations are set. It's all about educating your clients and being very upfront and honest with them.
Where do you go to network and meet new clients? I'd say at industry conferences and even charity events. I'm very involved in the community and it allows me to meet new people on a daily basis.
What has been your greatest accomplishment? I'm very proud of the name I've quietly built for myself based off of integrity and results.
What was the last good movie you saw or book you read? "The Hard Thing about Hard Things" by Ben Horowitz
What is your favorite restaurant? Aquitaine
Architecturally speaking, what is your favorite building in Boston? I'd Say the W Boston, The Ritz at 2 Avery and Millennium Place.
What kind of car do you drive? I'm a Porsche man but since I live and work downtown, you'll usually find me on foot!
Smartphone or paper? iPhone. I live on it!
What is your favorite city after Boston? New York.
In 10 words or less, what is your advice for someone new to the industry? It may sound cliche but patience and dedication is key.
What's your favorite real estate iPhone/Android app? The Compass APP
Who are your favorite people to follow on Twitter? I'm more active on Instagram and I mainly follow other agents or developers.
---
Want to be featured in our Agent Snapshot? Click here and complete this survey. Agent Snapshots are published on our website and shared in our newsletter and social media feeds.