Agent Snapshot: Brett DeRocker, SVP, Compass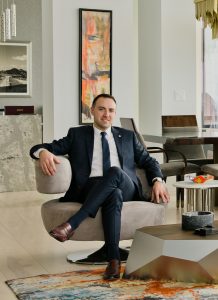 Name: Brett DeRocker
Job Title: SVP, Compass, Co-Founder, DeRocker & Khoury
Company: Compass
What was your first job in the realty industry? My first job in the city was at Suffolk University Off Campus Housing office, this was when I was in my undergraduate studies. The office essentially helped connect students to resources to find housing off campus.
Where did you grow up? Upstate New York
Growing up, what did you want to be? I think like anyone I wanted to be a lot of things. Generally I was interested in building homes and the process behind design, construction, and real estate development.
What do you do to relax when you're stressed? Watch one of my favorite TV shows, or meet friends out for dinner.
If you could have lunch with a well-known figure (living or not), who would it be and why? I am a fan of Jeff Lewis, I admire how he evolved his business from flipping houses to now selling a line of interior design products at major retailers.
Where is your favorite place to hang out? At my home, it's super relaxing and a reflection of all of the things I like.
What do you love most about the industry? I enjoy how many people you get to meet, everyone has a story and it's fun to get to know people and their story.
How do you distinguish yourself from the crowd of agents? I would say that I am extremely down to the earth and approachable, I am not afraid to do what it takes to get the best results for my clients and I do not let an ego impact that.
What is the most difficult aspect of your job? Explaining to a buyer or seller that sometimes the market reality is different from where their expectations are set. It's all about educating your clients and being very upfront and honest with them.
Where do you go to network and meet new clients? Definitely one of the best places to network is my office, I believe that relationships with other real estate agents is one of my best assets. Collaboration is key in this business.
What has been your greatest accomplishment? Definitely buying my first home on my own.
What was the last good movie you saw or book you read? I recently read a book called "Design Bloggers at Home" by Ellie Tennant which was about online influencers in the interior design world and how they decorate their own personal home.
What is your favorite restaurant? For sure Kava in the South End, the team is super friendly and hospitable plus the food is delicious.
Architecturally speaking, what is your favorite building in Boston? Millennium Place by Millennium Partners and Handel Architects at 580 Washington Street is one of my favorite buildings due to the way which the architects got the best use out of the property to maximize functionality and living. I also love the windows.
What kind of car do you drive? Until recently I did not have a car, it's super easy to get around Boston. I have a Volkswagen SUV which I use mostly for weekend trips with my dog Tux.
Smartphone or paper? I live on my iPhone.
What is your favorite city after Boston? Hard to choose, I love London, Amsterdam, and New York, all for different reasons.
In 10 words or less, what is your advice for someone new to the industry? Be patient, persistent, and most importantly positive.
What's your favorite real estate iPhone/Android app? Compass APP
Who are your favorite people to follow on Twitter? I am more active on Instagram, and I like following other agents to see what they are working on. I also like following interior designers and architects.
---
Want to be featured in our Agent Snapshot? Click here and complete this survey. Agent Snapshots are published on our website and shared in our newsletter and social media feeds.