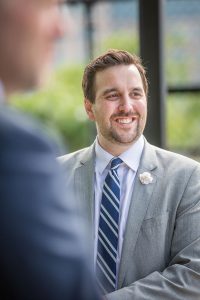 Name: Eric Rollo
Job Title: Realtor and Team Leader
Company: Eric Rollo Real Estate Team – William Raveis Real Estate – Back Bay
What was your first job in the realty industry? I worked for a small family-owned boutique in the Metrowest that was focused on investment properties and condominium conversions.
Where did you grow up? Framingham, MA
Growing up, what did you want to be? I originally wanted to be a lawyer or a finance professional. I feel like I took pieces of both to my real estate career!
What do you do to relax when you're stressed? I like to go to the gym or enjoy a glass of wine with my wife, friends, and family.
If you could have lunch with a well-known figure (living or not), who would it be and why? I would love to have lunch with Abraham Lincoln. In what was such a divisive time in our country's history, he was able to make decisions that were quite controversial but ultimately changed our country forever. I would love to hear about the decision-making process, who he relied on at the time, and how he handled the aftermath of his decisions.
Where is your favorite place to hang out? I love hanging out near our offices in the Back Bay and South End. There is so much to do around there and there's always someone I know in the neighborhood to grab a coffee or cocktail with and collaborate with.
What do you love most about the industry? I love the fact that no day is the same and each transaction presents a new set of challenges. It keeps me on my toes and I'm never bored. I also love the fact that it is a business of cooperation and collaboration – our competitors are a necessity in order to get a deal done.
How do you distinguish yourself from the crowd of agents? My team and I try to consistently push the envelope with our marketing and branding, making sure we are making our buyers and sellers the heroes in their real estate stories. We use a systematic approach to each transaction to maintain consistency and high standards for all of the people that trust us with their real estate needs.
What is the most difficult aspect of your job? Being in multiple places at once! Fortunately, I have a great team of hard-working individuals that take a lot of that pressure off of me who I would trust with my closest family members' transactions.
Where do you go to network and meet new clients? I love taking advantage of alumni events from my alma mater as well as partaking in charitable activities. My team and I are heavily involved with Friends of Boston's Homeless. We also head straight to social media for a lot of our networking, be it Instagram or Facebook.
What has been your greatest accomplishment? In the one and a half year's since my team's expansion, we have already more than doubled our production. I am proud of myself and my colleagues that push so hard to shatter our goals.
What was the last good movie you saw or book you read? "The Lean Startup" or "Building a Storybrand." Both of these books have helped me shape my business and create a value proposition that is attractive both to our clients and our agents.
What is your favorite restaurant? Grill 23 is by far my favorite steak house in Boston, but you can often find me enjoying a meal and a cold drink at Canary Square, which is just up the street from my home in JP.
Architecturally speaking, what is your favorite building in Boston? The Restoration Hardware building, originally the Museum of Natural History and taking on the role of housing clothing stores, etc along the years. It is a somewhat unassuming structure from the outside, but the architectural detail inside is absolutely stunning,
What kind of car do you drive? Range Rover Evoque – it's a good blend of size (easy to park around town) and ability (fantastic in the snow).
Smartphone or paper? Smartphone
What is your favorite city after Boston? I absolutely love Montreal – it reminds me of home when I'm there. A close second would be Denver, and Newport, RI would be just after that as I spent a lot of time there during high school and college.
In 10 words or less, what is your advice for someone new to the industry? Find a mentor.
What's your favorite real estate iPhone/Android app? I utilize RPR quite a bit for quick property lookups and to easily access listing agent information.
Who are your favorite people to follow on Twitter? I use Twitter to get news quickly. 02130News allows me to get info about what's going on in my neighborhood quickly and easily.
---
Want to be featured in our Agent Snapshot? Click here and complete this survey. Agent Snapshots are published on our website and shared in our newsletter and social media feeds.