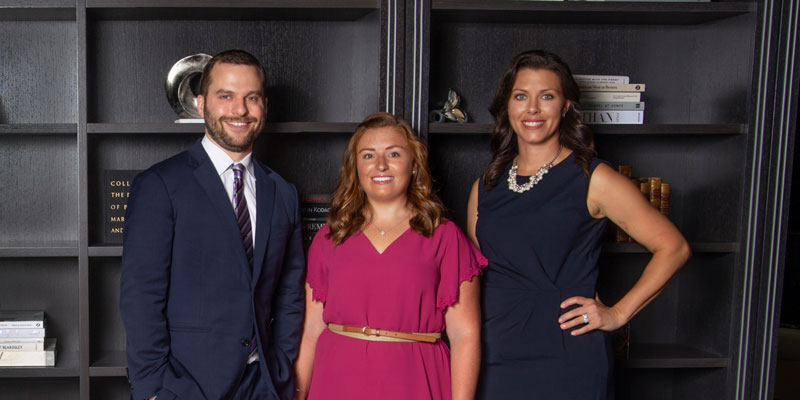 Crystal M. Roach, Senior Vice President
Michael Sherman, Senior Vice President
Janeen Rabidou, Realtor
Compass
Crystal M. Roach, Michael Sherman and Janeen Rabidou of Compass are dedicated to serving clients in and around Boston proper and infuse every transaction with their compassion and enthusiasm. "We are young, energetic, and we love being able to connect with people from all around the world with a common goal of purchasing a home/investment," they say.
Coming together to form a team in 2016, Roach and Sherman, both of whom are senior vice presidents, have 16 years of real estate experience combined, and as Boston-area natives, they both have a rich understanding of the city's housing markets and dynamic cultures. "Our professional growth has increased dramatically since we teamed up and we have numerous plans to continue to grow our team and overall business," says Sherman, adding that prior to joining forces, he and Roach had worked in the same office for many years.
Thanks to their perseverance over the course of a complicated transaction, Roach and Sherman broke the 2018 South End condo sales record, making it the highest-priced condominium in the neighborhood for the year and second highest-priced ever. They have previously been ranked among the top 20 agents in Boston and are members of Top Agent Network.
In the past 18 months, both Roach and Sherman welcomed a newborn into their families, which has increased their motivation to continue to grow and represent their clients with the utmost care and consideration.
Rabidou, who began working at Compass this year, has eight years of real estate experience. In addition to her time at Compass, she holds a position as an EMT/firefighter. Expanding the team's coverage area, she also focuses on areas west of Boston, including MetroWest and Central Massachusetts. Thanks to her high-pressure job as a firefighter, Rabidou is well practiced in handling stressful situations and comforting anxious individuals. "I've been told that I have a calming nature and answer all questions quickly and thoroughly," she says. Rabidou has two young children who inspire her work ethic and growth. She supports St. Jude Children's Research Hospital, the Childhood Leukemia Foundation and the Massachusetts Society for the Prevention of Cruelty to Animals.