This Week in Boston Real Estate: Carbon-neutral plans, T fares and more
by Andrew Morrell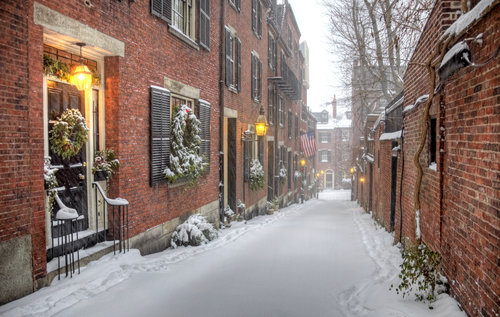 Boston Mayor Marty Walsh has set plans in motion for the city to be carbon-neutral by 2050. In other words, any greenhouse gas emissions from power generation, transportation and other sources will be offset by investments in renewable energy, and both sides of the energy equation will be made as efficient as possible. But making that goal a reality will require a lot of work.
In pursuit of that goal, the city recently released a report entitled "Carbon Free Boston" that outlines the steps needed to make Boston carbon-neutral in the next 30 years.
Real estate developers and property owners play a huge role in bringing the 2050 goal to fruition. The energy needed to power and heat Boston's homes and commercial buildings represents the city's biggest contribution to carbon emissions, and will be perhaps the most difficult to tackle. The Carbon Free Boston report proposes overhauling both the source of greenhouse gas emissions as well as the end-user (homes and businesses) to maximize efficiency at both ends. That means buying more energy on the wholesale market from clean or renewable sources (like wind and solar power generators), as well as providing financing for solar panels and battery storage units on and within buildings themselves. From the other end of the spectrum, Boston will need to begin retrofitting its buildings to consume less and save more, whether that's electricity for lighting, fuel for heating, water or physical waste.
Officials from the mayoral administration will begin holding a series of public hearings related to the Carbon Free Boston plan and other local climate initiatives this spring.
In other local real estate news:
The Massachusetts Bay Transportation Authority announced Jan. 28 that bus and subway fares for the T system and commuter rail would rise once again in July. Subway fares will rise 15 cents to $2.40 while local bus fares will rise 10 cents to $1.80. While the proposed fare hikes still need to earn final approval from the city, they are widely expected to pass. They would mark the fourth time since 2012 that the MBTA has increased fares, with the last hike happening in 2016. Commuter rail fares and applicable weekly or monthly passes will also be subject to increases. As proposed, the new MBTA ticket prices would be about 6 percent higher across the board. Previously enacted legislation caps MBTA fare hikes at 7 percent.
Related Beal, the Boston-based subsidiary of leading nationwide developer Related Cos., is said to be nearing a deal to purchase 6.5 acres of land in Fort Point. The plot along Fort Point Channel is currently owned by Gillette as part of its corporate headquarters, and also is near General Electric's headquarters. The Boston Globe first reported a deal for the property was in the works based on anonymous sources, but neither party would confirm details. With Fort Point's status as a hot neighborhood, analysts suspect the deal could be worth upwards of $200 million, and would make room for as many as 1 million square feet of residential or commercial floor space.
The Dot Block project planned for Savin Hill in Dorchester may finally be moving forward with construction after nearly three years of delays. The Boston Planning and Development Agency approved new plans submitted by developer Samuels & Associates that include more affordable units (15 percent of the units planned) and less parking space. Another 96 of the development's 488 units will also meet city standards under its "Compact Living" program, which allows for less required parking space and reduced costs. The Dot Block project is expected to cost a total of $150 million to bring to market, but is still pending review during the ongoing public comment period.