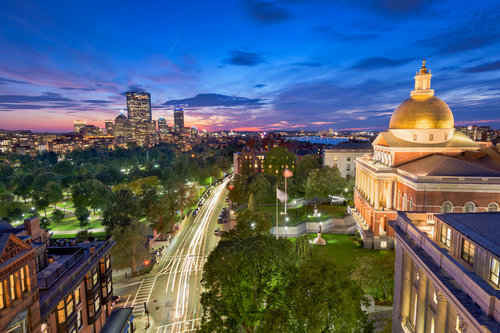 Though it hasn't announced plans for its planned second headquarters and the 50,000 people it will employ, Amazon has announced an expansion of its Boston office.
The e-commerce goliath announced on Tuesday that it would move into a 430,000 square-foot office in WS Development's Seaport project, according to the New York Times. Such a move will add an addition 2,000 jobs to the area, mostly in machine learning, speech science and robotics engineering.
Boston is also in the running for Amazon's second headquarters, along with 19 other cities. The headquarters coming to Boston could have a massive impact on home prices in the area, and its likely the 2,000 jobs the company announced this week will do the same.
In other Boston real estate news:
Boston-area agents are not happy with a state bill that would require energy audits during the home sale process. The idea might have the support of environmentalists, but the Greater Boston Real Estate Board believes the real estate community is being ignored in the ongoing discussions of the bill. "We were basically told to sit down and shut up and we'll tell you what's good for you," Greg Vasil, CEO of the GBREB, said, according to the State House News Service.
A massive mixed-use development finally broke ground in the Seaport District Tuesday. The 14-story complex in the Marine Industrial Park will include two hotels. The developers, Intercontinental Real Estate Corp. and Harbinger Development, will seek to capitalize on the businesses in the area, as well as tourists coming in from Boston's Cruiseport. The development is expect to open in 2020.
Some of New York's biggest brokerages are moving into Boston. The Real Deal reports that Douglas Elliman, Compass and Engel &Volkers have expanded into the market in April. Compass in particular has made a dramatic entrance into the city, hiring 200 agents across four offices. Engel & Volkers CEO Anthony Hitt told Inman that said Boston's status as a biotech hub is part of the reason for their investment.