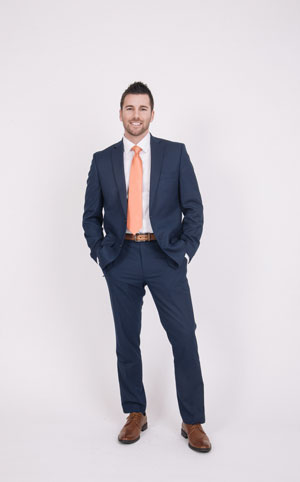 Number of years in real estate: One
Describe your look: During work – professional. Out of work – preppy and casual.
What do you consider a "fashion don't"? Wearing sneakers with a suit. Also, socks should match pants, and your belt should match your shoes and your watch band.
What is your favorite piece of clothing and why? When it's cold outside, I love complementing my professional attire with a sweater. During the warmer months, I love my polos when I'm not at work.
What do you consider a must-have accessory? A nice pair of sunglasses.
Where are your favorite places to shop? You don't have to spend a lot of money to look nice. Clothing outlets are important to me because I can't justify paying full price for brands like Ralph Lauren and Vineyard Vines, but I like those brands' respective styles. I also enjoy shopping at Target and Kohl's because the prices are reasonable and I can usually find clothes that work with my style.
What, besides your wardrobe, completes your look? Hairstyle and appropriately groomed facial hair.
What is in your bag/brief case? I'm not really one to carry a briefcase or a bag because they're bulky and can slow my pace. My business runs on a mobile model because we move quickly, so usually my "briefcase" is my mobile device. When I sometimes carry a briefcase, it includes my laptop, a legal pad, and business cards.
My closet is full of… Sweaters, button-downs, ties, belts, T-shirts, jeans, shorts, shoes, and beachwear; I love the time I spend with my family and friends at the beach in the summer.
What is your style advice for other people in the industry? Always present yourself in a professional manner; you never know who you are going to run into over the course of any given day.
Suit by Calvin Klein; shirt by Brooks Brothers; tie by Ralph Lauren; belt by Dockers, shoes by David Stone.