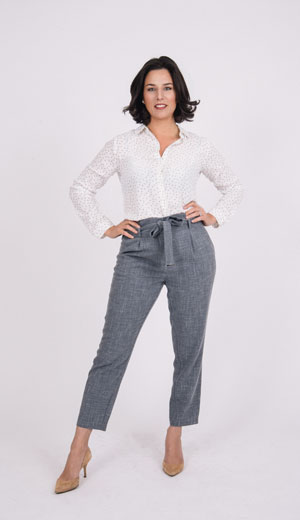 Number of years in real estate:
8 Blissful Years and going strong! 
Describe your look:  
I usually sport what I consider the 'high / low' game.  I usually layer less expensive trendy pieces with quality basics such as a nice trouser, slick blazer or cute pump.  I highlight my outfits with small touches of jewelry adding the perfect amount of glimmer to enhance and complete the overall look.
What do you consider a "fashion don't"?  
Be cautious not to over do it! Similarly to the very specific 90's home equip with pastel gray and pink wall coverings, blush carpet and light gray lacquered everything, as too much of anything is never a good thing.  Being stuck in a dated look can be a reflection of the agent and the client might wonder in the fast paced world we live in whether or not they keeping up with the times, fashionably and professionally. I am a big fan of keeping classic pieces, but transforming them to work with new, trendy garments, ultimately breathing new life into what could be a tired look. The same could be said for how my team and I like to stage properties to create a modern day update using timeless furniture and mixing in unique accessories. 
What is your favorite piece of clothing and why? 
Currently my favorite pieces are my new Regent Blazer from J.Crew. It is a warm camel blazer that is slightly fitted and rocks a popped collar… my absolute fave!!! I love it because it layers fabulously with ANYTHING from jeans to a little black dress, adding that extra layer of professionalism needed on the job! 
What do you consider a must-have accessory? 
My Hannah Blount Large Gold Branch Earrings, they are a whimsical touch that are a super cool, unexpected surprise.  
Where are your favorite places to shop? 
With 2 kids under four and a very busy work/ family life, shopping is not always an option. I try my hardest to stay abreast of the latest trends without being too trendy and I feel that Zara is the perfect happy medium for that application.  They have a great non-overwhelming selection that is fashion forward and affordable. I also love to shop there for both my daughter and my son as a "one stop shop."
What, besides your wardrobe, completes your look? 
I'd have to say a lot of time my Neverfull LV in the Damier Ebène canvas with the red interior, its a must have for the job and serves as double duty as it not only completes the look but also holds just about anything needed for the job. 
What is in your bag/brief case? 
Speaking of what's in that thing: well first off, I have a sweet organizer in the bag to help keep it in order, but at any given time you will find a tube of red lipstick, hand sanitizer, my PLANNER, phone (of course) and a cute silver case that I keep my credit cards in.  Oh and because I'm a mom you'll totally find snacks, wipes and crayons in there on occasion. 
My closet is full of… 
Blacks, neutrals and smatterings of pieces that are off the cuff and embody a bit more pizzazz! 
What is your style advice for other people in the industry? 
Keep it cool, and stay true to yourself. In a world of constantly being overwhelmed try to stay clear minded when choosing your collection of clothes.  They say a lot about you as an individual and have lasting effects.  Make them be positive.   
Pants by Primark; s
hirt by Bobbles & Lace; s
hoes by J. Crew