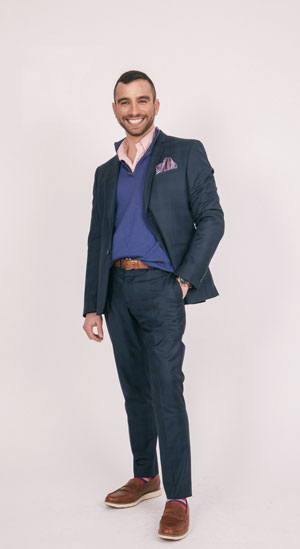 Number of years in real estate: 10 years
Describe your look: Modern Bostonian Yupster
What do you consider a "fashion don't"? Don't miss a belt loop!
What is your favorite piece of clothing and why? I have a brown bomber jacket I bought in Morocco. I was in a market in Fez and watched how it was made, the quality is incredible, and I'm reminded of my travels each time I wear it. I don't wear it often but I hope you see me on one of those days I do because, this jacket is bad!
What do you consider a must-have accessory? A big smile
Where are your favorite places to shop? Nordstrom Rack and Marshalls since they're right across the street from one another and in between my office and the bank.
What, besides your wardrobe, completes your look? A fresh haircut from my barber Nick at Belsito's in the South End.  We both share the philosophy of "Look Good, Feel Good, Do Good!"
What is in your bag/brief case? My MacBook Air, a Zillow note pad, "Thank You" cards, my Realtor pins, usb stick, business cards, and a Dunkin Donuts gift card for persuading the occasional tenant for a last minute showing.
My closet is full of… Ralph Lauren Vaughn sneakers and dozens of pairs of funky socks!
What is your style advice for other people in the industry? Here is some practical advice- When you're touring a lot of homes, wear nice shoes that are easy to slip on, and off, because you never want to be the person everyone is waiting for while you're retying your shoelaces.
Socks by English Laundry; shoes by Cole Haan; suit by Zara belt by Bosca; oxford shirt by Ralph Lauren; sweater by Jeremy Argyle; watch by Armani Exchange