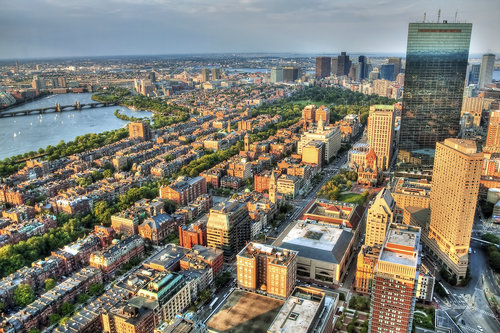 The Walsh administration is on the verge of requiring that real estate developers make more of an effort to create affordable housing, amidst Boston's biggest building boom in a generation.
The new requirement is due to steep rent increases and a boom in luxury projects, which are forcing many people out of the city. The plan, according to two city officials, would ask developers of new condo and apartment buildings to add to the number of affordably priced units they build within their projects or, alternatively, fund added affordable units elsewhere. Developers of office buildings will likely be ordered to pay a higher fee to fund housing and job training.
Advocates have been urging City Hall to make developers foot more of the bill to shelter lower- and middle-income Boston residents.
"This is an issue of shared prosperity," said Patricia Flaherty, executive director of Mission Hill Neighborhood Housing Services, said at a hearing on the issue Tuesday. "There needs to be an increase in linkage fees to make sure our neighborhoods remain diverse and affordable."
Affordable Housing in Boston
Walsh's housing chief, Sheila Dillon, stated that the administration has been attempting to negotiate a compromise between the developers and advocates. The mayor is expected to unveil new targets by the end of 2015.
Currently, builders are required to set aside 13 percent of their units for low-income residents, and to contribute $10 for every square foot of new construction over 100,000 square feet they build; currently, those funds raise about $1.4 million for job training and $7 million per year for housing.
Those fees have increased elsewhere in Greater Boston. Back in September, Cambridge nearly tripled the fee to $12 so developers of nonresidential projects over 30,000 square feet can finance affordable housing. Within the next three years, it will jump to $15. Developers of residential complexes are required to include affordable condo or apartment units within their buildings; Somerville increased its housing fee two years ago.
In Boston, advocates have been pushing for a fee increase to $12 a square foot. Their appeal prompted Tuesday's meeting, at which several Council members said they fully endorsed a bump in fees. But Greg Vasil, chief executive of the Greater Boston Real Estate Board, said on Tuesday that Boston needs to be cautious about asking for too much. Vasil also pointed out that the fees do little to improve middle-income housing, which also is increasingly scarce across the city. 
Still, advocates insist that raising the requirements will aid Walsh in fulfilling one of his top priorities, boosting the funding for affordable housing to $20 million a year and constructing 53,000 residential units by 2030.