April new construction numbers excellent, but stats could be misleading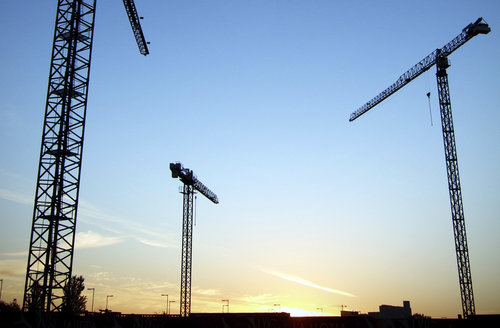 On the surface, April was a fabulously positive month for new construction. Not only did housing starts jump 20.2 percent from March (the second largest jump ever recorded), but their current annual rate of 1.135 million is the highest since Nov. 2007, according to the Census Bureau.
As encouraging as that 20.2-percent uptick is, though, there are considerable factors at play in today's new construction marketplace, some of which cast doubt on the validity of those rosy statistics.
Here are five important things to consider:
1. The Multifamily Engine – Multifamily construction has played an integral role in the post-bubble homebuilding market, so it's hardly surprising that multifamily was largely behind April's startling monthly gains. With 389,000 starts in April, multifamily construction was up 35.5 percent from March, compared with a 16.7 percent increase for single-family starts.
Also, multifamily was similarly strong in building permits and housing completions, where it saw gains of 17.5 and 36.5 percent, respectively.
2. A Single-Family Kind of Year? – Despite those strong monthly gains, multifamily construction was considerably weaker than single family by year-over-year measurements. While multifamily starts were down 5.8 percent from April 2014, single-family starts were up 12.94 percent, and with building permits, multifamily's 1.98 percent decline contrasted with single family's 10.6 percent increase.
3. YTD Relativity – New construction is notorious for wild month-to-month fluctuations, so year-to-date measurements have always been a more reliable indicator of where the market is truly heading. Thus far in 2015, housing starts are 5.7 percent higher than the same period in 2014, with single-family construction up 8.01 percent and multifamily up 1.05 percent – all positive numbers, no doubt, but lacking the double-digit jumps of April's numbers.
4. What is Happening in the Northeast? – Those month-to-month fluctuations for new construction have as much to do with the Census Bureau's reporting methods as they do the nature of the construction marketplace, and there were two areas in April's report that cast doubt on its strong increases:
First, the margin of error for the Census Bureau's housing starts numbers is always quite high, and April was no exception. So while a 20.2 percent monthly increase is great, the margin of error is ±14.4 percent. And for the yearly increase of 9.2 percent, the margin of error is ±10.6 percent.
Second, the Census Bureau breaks down its housing starts data on regional terms, and its reporting on construction activity in the Northeast has raised some eyebrows. From March to April, housing starts in the Northeast rose a whopping 85 percent, jumping from an annual rate of 99,000 to 184,000. That increase is considerably higher than any other regional increase in April, and it's almost certain the Census Bureau will revise it down when it revamps April's numbers with June's report.
5. The Construction/Lumber Relationship – Finally, the price of lumber skyrocketed in 2013 and remained high through 2014, adding considerable cost and headaches to the homebuilding process. This year, though, lumber prices have fallen more than 27 percent and are at their lowest level in three years – and as this Zero Hedge chart shows, the rise in housing starts has coincided with that decline in lumber costs.