Some news outlets are hyperventilating about the latest new home sales report, but the reality is more encouraging.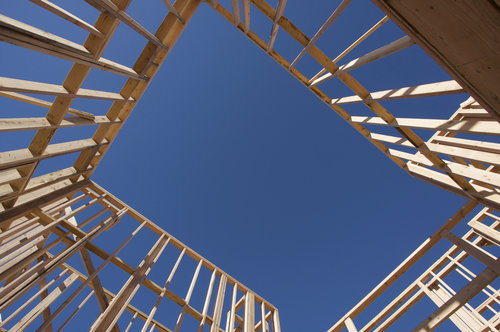 The Census Bureau released its latest report on new home sales this morning, and on the surface, it's a doozy.
Finishing March at a seasonally adjusted annual rate of 481,000, new home sales were down 11.4 percent from February's rate of 543,000; though they remained 19.4 percent above March 2014's rate, the strong monthly decline has become a focal point for many news outlets.
Of course, there's much more to the Census Bureau's report than that one stat, so we've taken the time to pinpoint four findings of an infinitely more encouraging bend.
1. A Big Grain of Salt – The Census Bureau's numbers often come with a considerable margin of error, and March's numbers were no exception. For instance, that 11.4 percent decline? It had a margin of error of 18.6 percent, meaning that new home sales may have actually increased by 7.2 percent! The yearly increase of 19.4 percent was similarly sketchy, boasting a margin of 21.8 percent. So in short, considering the numbers requires a hefty grain of salt.
2. Longer Trends are Positive – Even if we take that monthly decline to heart, the overall trend for new home sales is an encouraging one. In 2015's first quarter, new home sales were up 22 percent from 2014's first quarter, and best of all, that increase is outside the margin of error!
3. Prices Finally in Check? – New construction's overwhelming trend towards affluence has been one of the defining narratives of the housing recovery (and of wider economic inequality), but March's numbers indicated that prices may be leveling off. Indeed, on a 12-month moving average, median new home prices dropped in March, and on a year-over-year basis, March's median price of $277,400 was 15.6 percent below that of March 2014; average price, meanwhile, only increased 2.7 percent year-over-year to $343,300. We'll take a closer look at those numbers in a subsequent report, but those trends are certainly encouraging for homebuyers of modest means.
4. The Return of Inventory? – Finally, part of that leveling in price may be due to a greater inventory of new homes. In March, there were roughly 213,000 new homes on the market, a 5.3-months supply. That's up 1.43 percent from February and 10.4 percent from March 2014. Given how low housing inventory has been, such a trend can only be encouraging.