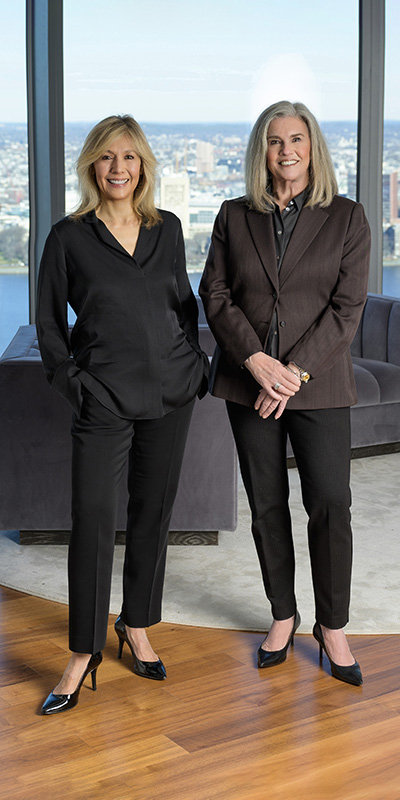 Known for their "whole-istic" approach to client service, Concierge Home Sales by The Kerzner Group caters to the Brookline, Newton, MetroWest and Boston communities. Team leaders Irene Kerzner and Wendy Matthews have a combined 45 years of real estate experience, priding themselves on meticulous market research and property preparation.
Concierge Home Sales was born when Kerzner joined forces with Heidi Wells, founder of the successful home staging company Silk Purse Design Group. Part of their process is creating a personal plan to prepare each property. When clients choose Concierge, not only do they get a whole team of professionals behind them, but as part of their commitment, they underwrite the majority of the staging costs. Kerzner says the goal is to simplify one of the most stressful transitions into a manageable and successful experience. Whether buying or selling, clients have the expertise and talents of the whole concierge team behind them.
Matthews and Kerzner have combined Matthews' established experience in the urban Boston markets with shared multiple decades' worth in the western suburbs. Mathews specializes in serving corporate relocation clients, empty nesters, growing families and first-time homebuyers, coming with a stellar reputation for her purpose-driven approach. Her partnership with Kerzner is a powerful compliment to her comprehensive way of doing business.
"Having Concierge Home Sales sell your property means we will cast the widest net and give your property its greatest marketing visibility," says Kerzner. "The key to getting the best price is to get the broadest exposure to as many qualified buyers as possible. We ensure getting those buyers through the door by creating a marketing package that beautifully represents your property."
Concierge Home Sales by The Kerzner Group was recently named one of Boston Magazine's top real estate producers and has been featured in The Boston Globe and Forbes magazine.