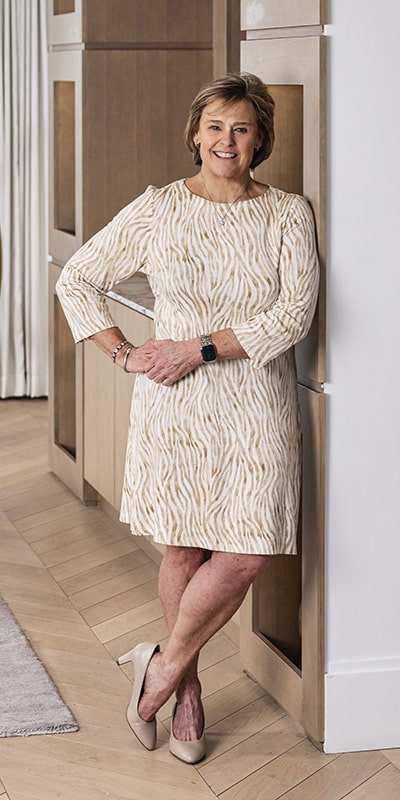 Changing careers always involves risk, but it's one Geralyn Farrelly never regrets taking. Farrelly, associate broker, Coldwell Banker/The Farrelly Group, worked in the physical therapy field before real estate. Nineteen years later, she still treats the buyers and sellers she represents with the same compassion and empathy she showed patients.
"I really listen to my clients' needs," says Farrelly. "Just like your health is your biggest asset, your home is your biggest financial asset."
A Certified Luxury Home Marketing Specialist, Farrelly grew up in North Reading, her primary territory and assists clients throughout Middlesex County. Hardworking and determined, she listens to clients needs and does whatever it takes to achieve the desired outcome. "I always ask myself, 'If this were me, how would I want it handled?' and move forward from there."
She loves to casually chat with clients before the processs begins. "It allows me to find out about them and it allows them to get to know me as a person," she explains. "It's extremely important to connect with your clients so that they feel comfortable talking with you. A real estate transaction is an extremely personal experience for everyone."
Farrelly feels extremely fortunate to work with 12 Realtors as broker. "I love watching them grow and learn," she says. "My business has been helped by surrounding myself with some of the best people. They are all kind, and really, we all help each other."
Recipient of a Top Producer award from Boston Magazine the past four consecutive years, she earned 2019 and 2020 "Best of The Readings" awards from The Readings magazine, a "2021 MAR Gratitude" award and Homesnap Customer Service awards in 2019, 2020 and 2021.
She is a member of multiple industry associations, supports numerous charities and loves traveling, relaxing on the Cape and skiing with family.