What was your first job in the real estate industry? I was lucky enough to land a spot as lead buyer specialist for a very successful agent on the South Shore.
Where did you grow up? I grew up all over the place! Because of my father's career, we moved every 3-4 years. I have lived in Thailand, Cyprus, Germany, and Virginia, before moving up here to Boston.
Growing up, what did you want to be? Growing up my one and only dream was to be a Broadway star. I did all of the musicals in high school and even went to college for music where I continued to play roles in the musical and opera productions. From time to time I do miss it.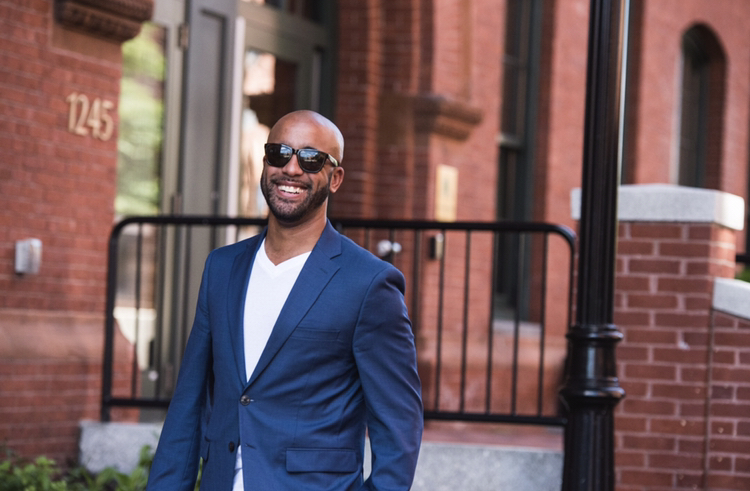 What do you do to relax when you're stressed? A stressful day calls for a variety of solutions. Depending on where that stress is coming from, I could want to dive into a project around the house, go work out, zone out and listen to music, or grab some delicious food. I have a tendency to want to keep busy.
If you could have lunch with a well-known figure (living or not), who would it be and why? This changes from time to time but lately I've really been wanting to have a sit down with Dwayne "The Rock" Johnson. Laugh if you want but the man has built an empire from nothing, and he continues to stay humble. It's fascinating and motivating.
Where is your favorite place to hang out? I have a few spots that I frequent, but honestly the list could go on and on. The Broadway in Southie is a pretty chill spot with great eats. I also love Homestead in Fields Corner, McKenna's Café in Savin Hill, Marina Bay in Quincy, and the Hingham Shipyard. All of these spots have food and drinks, so you get the idea. Pretty much any city center or something beach side. I love to people watch.
What do you love most about the industry? Career-wise, my favorite aspect of the industry is that there is no ceiling to my success. I can push myself as hard as I want to and keep on going. This career, although like a roller coaster at times, is extremely rewarding. I truly believe in the value that I bring to the table and I appreciate each and every client that I've had the opportunity to work for so far, and each one coming down the line. This industry keeps me moving. I can't stand still, and in this business, I can bounce around. I'm able to meet people from all walks of life.
How do you distinguish yourself from the crowd of agents?
I'm just me. I use social media to give the world a glimpse into my life, my career, and my persona. Although can't live everywhere that I sell, I spend ALL of my time (that I'm not home) in those areas. For example, I absolutely love Dorchester. I get breakfast in dot. I work out in dot. I get lunch in dot. I walk or drive around the streets that I'm not familiar with. I immerse myself in my focus areas because I truly believe in what they have to offer, and not only so that I can be a resource, but because I enjoy it!
What is the most difficult aspect of your job? The most difficult aspect of the job, for me, is my fear of not doing enough, and how unpredictable it can be. Just when you think you know someone, or have a situation figured out, BAM, you're thrown a curve ball.
Where do you go to network and meet new clients? I'm everywhere. I'm at restaurants, bars, the gym, country clubs, hotel lounges, coffee shops, you name it. I enjoy building relationships whether or not business comes from it. I also enjoy being a connector. Isn't it great to be able to say, "You know what, I know someone for that!"
What has been your greatest accomplishment? Career-wise: after being told (at my first interview for a real estate company) by a vice president of a firm who shall not be named, that I'd be lucky if I sold two houses my first year. I was then told for 45 minutes straight why I should not get into this career. Well, I went on to sell 20 properties my first year. Personally: my beautiful family is my greatest accomplishment. I've never been more motivated to succeed.
What was the last good movie you saw or book you read? The last good book I read is "Sell It Like Serhant". It's not just about selling real estate. It's also about growing relationships and creating systems to help your work-life balance.
What is your favorite restaurant?
Without a doubt that is Taco Loco in Somerville. Nothing beats a loaded burrito in my opinion. If I could pick that spot up and move it closer to me, I would.
Architecturally speaking, what is your favorite building in Boston? I'll give you my top three favorite buildings, so far. In no particular order (because they are all in completely different categories and can't compare), they are the St. Cloud in the South End, the St. Regis Residences (currently under construction – look it up!) in the Seaport, and the Institute of Contemporary Art.
What kind of car do you drive? I drive a silver 2017 Kia Sorento EX and I'm in love. It has a fantastic blend of practical and luxury believe it or not.
What is your favorite city after Boston? Philadelphia
In 10 words or less, what is your advice for someone new to the industry? Fail early, fail often, and fail forward.
What's your favorite real estate iPhone/Android app? I have yet to find one that blows my mind. Honestly. Maybe that should be a project for me!
Who are your favorite people to follow on Twitter? Do people still tweet? My favorite people on Instagram are The Rock, Will Smith, Danny Nassi, and Gary V. They are all very "real," and are highly inspirational.