This week in Boston real estate: Rising rents, developing neighborhoods and more
by Andrew Morrell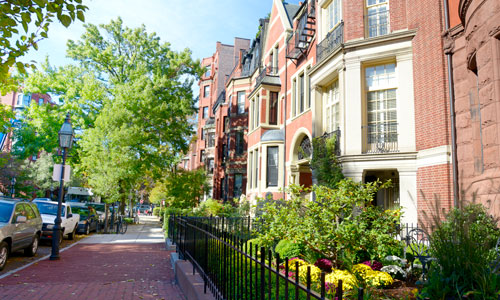 Boston rent growth approaches 9 percent
A report from real estate listings site Zumper found the median rent for one-bedroom apartments in Boston was up 8.7 percent as of April (to $2,500 per month) compared to the same month a year earlier, and 3.3 percent higher than just a month ago. But that wasn't even the biggest increase seen across 15 other Boston-area cities: In Fall River, median one-bedroom rent grew 10.3 percent year-over-year, while Brookline and Framingham also saw sizable growth. Rent growth for two-bedroom apartments in Boston was slower, at 3.6 percent year-over-year for a median monthly price of $2,850 as of April. A handful of towns saw rents decline in the last year, including Brockton, Quincy, Lawrence and Lowell.
For comparison, the median one-bedroom rent for the entire state of Massachusetts was $1,826, while the nationwide median for the same type of unit was $1,216, according to Zumper's latest data. Boston's median rent puts it just ahead of San Jose (which includes the famously expensive Silicon Valley) and just behind New York City in Zumper's ranking of the top 10 priciest rental markets in the U.S.
Proposed mega-merger could bring new corporate employer to Boston
Two of the country's biggest defense contractors, Raytheon and United Technologies, announced at the beginning of the week that they were in talks to merge. If approved by shareholders and regulators, the combined company would be second only to Boeing in a ranking of the world's largest and most valuable aerospace and defense companies. It would also potentially bring a new giant corporate headquarters to the Boston area: United Technologies CEO Greg Hayes, who would assume the top executive spot at the combined company, has already said he would relocate the new company's HQ to Raytheon's current home of Waltham. The newly merged conglomerate would also be behind only General Electric as the state's largest employer as measured by revenue. The prospect of more jobs coming to the area could have an impact on real estate prices, although even the proposed merger is still uncertain.
100 Shawmut Avenue breaks ground
Local developer the Davis Companies broke ground June 3 on a 13-story, 138-unit luxury condo building at 100 Shawmut Avenue in the South End. Units in the building will range from studios to four-bedrooms in addition to a den space, as well as amenities like private parking, a fitness center, a dog-washing station and a 24-hour concierge. Designs for the building incorporate the original 1920s brick facade of the first six floors but add new steel and glass floors on top. This area of the South End has seen a surge of new construction recently from developments including the Ink Block and the Troy Boston apartments.