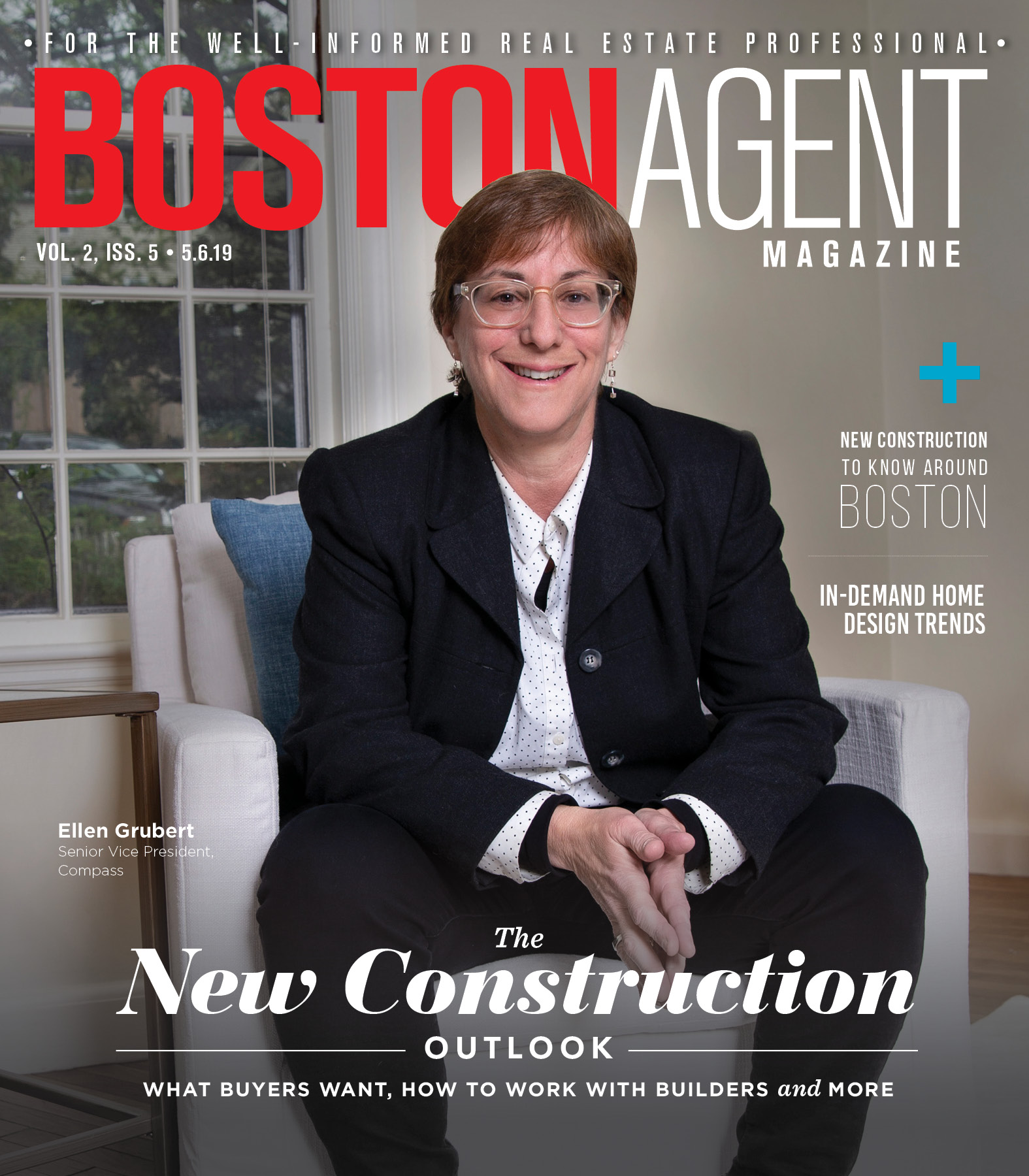 Boston's building boom is ongoing, but is increasingly covering more of the city and surrounding towns. Between 2000 and 2016, according to the latest count from the U.S. Census Bureau, Boston added nearly 37,000 residential housing units, a growth rate of 12.7 percent. In 2018, the Boston Planning and Development Agency approved 68 residential construction projects, and expected to add an additional 4,410 housing units — a total of 12.1 million additional square feet.
The city may need every inch, with a growing population and a shrinking supply of affordable housing. We spoke with local real estate agents and community leaders to get a sense of what that might look like from multiple points of view.
Proving your expertise
As an independent real estate broker, if you want to sell new construction, you first have to sell yourself, in a way. If a developer is to choose you to serve as the exclusive listing agent of their newest project, they need a compelling reason to do so.
Ellen Grubert and Janis Lippman, leaders of the Ellen + Janis Team at Compass, accomplished this by pooling the skills and knowledge of their team members, not to mention their own years of negotiating experience and a dash of good fortune. The team counts among their listings the new condo development in Jamaica Plain known as 45 On Burnett, which includes 44 units of between one and three bedrooms, each between 740 and 1,400 square feet.
While Grubert had a foot in the door with the developer behind the project initially, she and the team still had to earn their titles as exclusive listing agents at 45 On Burnett by preparing extensive marketing proposals, pitch decks and analyses of comparable sales to present their case.
"I never take anything for granted," Grubert said. "I always follow the same principle: Show up and do what you said you would do. Don't make promises you can't keep."
To win the listing, the Ellen + Janis Team pursued a multi-pronged approach. In competition with three or four other agents, Grubert said, they presented the developer with a comprehensive analysis of similar listings on the market, as well as a full-fledged marketing plan detailing how they would get buyers in the door. But they needed to demonstrate they understood more than just data to win the builder's favor.
"You need to be an expert in the field," Grubert said on working with developers and becoming a new construction specialist. "You need to be an expert not only of your market and the competition, but also how builders talk, how they think and knowing what it really takes to sell new construction. It's more than just saying to a buyer, 'Here's your unit. Here's the kitchen.'"
Much like the design and construction of the building itself, it takes a team of people to bring it to market and earn top-dollar for the developer's investment. The Ellen + Janis Team utilizes the combined skills of a transaction coordinator and an in-house marketing department, along with the tools they have access to as Compass agents. For Grubert specifically, it also means becoming as familiar as possible with the development team, from the project managers and site supervisors to the architect, the builder and their subcontractors.
"It really does take a village to build and market 44 units," Grubert said. "You have to maintain that team approach, you have to know who the players are and you have to be nimble when you're marketing preconstruction."
Now that Grubert and Lippman can turn their attention to marketing the property to buyers, some of the hardest work may already be taken care of. That's because 45 On Burnett is located within the heart of Jamaica Plain, one of the most desirable neighborhoods in the Boston area right now. It's a historic community with plentiful green space and a close-knit feel, one that Grubert and Lippman themselves call home.
"It's the best area for growth and opportunity right now in Boston," Grubert said of Jamaica Plain.
---
Read more from our New Construction issue:
---
How to add value
New construction outside of the city center usually means working with clients who want to build the archetypal dream home. Eric Cudmore, team leader of Cudmore & Associates at RE/MAX On The River in Middleton, specializes in helping his clients bring those dreams to life. But what that really entails, he explained, is translating his clients' abstract vision into concrete plans for the architect and builder. That decoding work often has to work both ways.
"You're trying to create a proverbial win-win for both parties," Cudmore said, with the two sides in question being the homebuilder and the buyer.
When it comes to squaring the buyer's tastes with the builder's capabilities, though, this is easier said than done. Cudmore's clients know they want their new home to include certain features or adhere to a typical design — granite countertops, a custom kitchen and an open-concept floor plan, for example, are all common requests these days. The builder has to meet these requirements, plus an endless list of building codes and variables that average buyers never think about. With all of this constrained by time and a budget, the potential for conflict at some point is inevitable.
"The biggest thing I try to do is show value," Cudmore said, explaining how he serves as a mediator between builder and buyer. "That means understanding what the builder is going to build, and asking the questions that are never on the buyer's mind."
With his years of experience in new construction, Cudmore is never short on questions to ask. He offered a far-from-exhaustive list of crucial points to cover as examples, ranging from the foundation (do they use steel rebar, which can reduce the chance that cracks will develop?), to the type of insulation (fiberglass, spray foam or foam board?), to the angle of the roof line, to the septic system (a crucial detail for homes built outside of a city) and much more.
Even concerning the handful of features buyers specifically ask for, Cudmore has to be on guard against corner-cutting. Unless the client is as specific as possible in his or her request, Cudmore said, some builders will simply install the least expensive flooring or granite countertops, which often sacrifice quality. Or a subcontractor may agree to a custom kitchen, but actually plan to install stock cabinets that aren't designed to fit the space.
"A lot of builders use the terminology of a 'custom kitchen' but are actually building a box kitchen," Cudmore said. "I'm building a custom kitchen in my own house as we speak, and every cabinet is built piece-by-piece. It takes a lot of work and it's going to look totally different, but there is immense value to that.
This is just one of the many details buyers — and agents without new construction experience — may overlook. Cudmore noted this attention to detail factors into his own value proposition in the transaction: "It's showing that value you add for your clients."
Another way new construction specialists show their value is when it comes to windows. Cudmore explained that when most consumers think about which windows to use in their home, they choose a name brand like Anderson. Brands have power, and when his clients see the Anderson logo, they are often content to move onto the next task at hand.
"They think they know windows, so they ask for Anderson windows, and they are happy," Cudmore said. "But they don't always know that if you use the Anderson 'Silver Line,' those are much lower quality."
Advice for new agents
Without knowing the ins and outs of new construction — without the ability to "speak the builder's language," as Grubert put it — inexperienced agents put their clients at risk.
"A lot of agents without a background in new construction will just say, 'Oh, it's just floors, it's windows, it's granite,'" Cudmore said. "It's never just floors, or windows, or granite. You need to know the materials, know the products and know the questions to ask."
That doesn't mean he has an adversarial relationship with builders, though. With his combined years of experience in new-home construction, Cudmore is keenly aware of the challenges and pain points that builders must reckon with on a daily basis from project to project. He enjoys his role as a point person for both sides and knows that in some cases, clients just need a shift in perspective.
"A lot of clients think the builder is making a fortune — they're really not," Cudmore said. "They are making a good day-to-day living, but they are also taking a big risk. You have to get [your clients] over that hurdle and show them the value."
For agents who want to get to a place where new construction isn't a foreign concept, both Grubert and Cudmore emphasized the importance of building relationships.
"You have to learn the market and understand what it takes to do new construction," Grubert said when asked how agents could work to specialize in his niche. "Get to know some of the other players in town and ask if they will have coffee. Go to open houses and ask questions about the builder and their process, what materials they use."
Perhaps more important, she advised, is that up-and-coming agents adopt the right mentality. "You can't be a 'one-hit wonder,'" Grubert said. "If this is going to be your niche, you have to play the long game. Bringing a new construction project to a developer means you are bringing them an opportunity, you are bringing the permits, you are bringing the market research. It's not like putting a condo on the market and selling it in two weeks."
Cudmore advocated a similar approach, augmented with an old-fashioned study hall approach.
"Just start reading," he said. "Just read about framing. Read about heating and cooling systems. Research local building codes and zoning laws." Then, Cudmore said, "I would just stop in and introduce myself at open houses, say I want to educate myself on how things are built. Pay attention to the small details."
As with so much in real estate, gaining the necessary knowledge about new construction stems naturally from forming relationships with professionals in the field, both of which are essential to forging a specialty.
"If you create relationships with builders, you will learn and learn," Cudmore said. "Just start walking around."