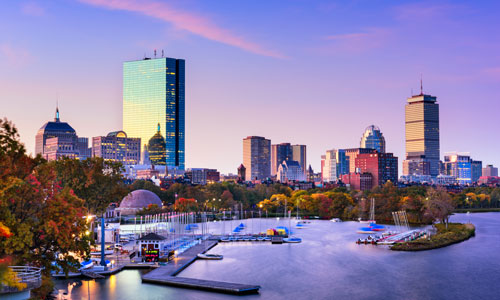 Last week, we reported that Boston's four most-expensive neighborhoods had crossed a new threshold in costliness. And while Boston's priciest neighborhoods include some eye-popping listing prices and closed sales, there is always a deal to be found.
Thanks to NeighborhoodX, a hyper-local housing data website, it's easier to find housing at the lower end of a neighborhood's price point than ever before. While the company finds a neighborhood's average listing to determine the most expensive areas, it also shows a spectrum of for-sale homes in a range of prices, from most expensive to least.  ("Least" being extremely relative here, since most of these homes are out of reach for a large portion of Boston's residents.)
Seaport, one of Boston's newest neighborhoods, is also its most expensive. The most costly listing per square foot in the area is a three-bedroom condo in Pier Four, which is asking for $8.7 million, or $3,410 per square foot. Pier Four is an impressive new waterfront development.
It also has another listed condo that would be considered a deal for the area. A two-bedroom condo that is about half the size of the most expensive listing has an asking price of $2.6 million, which breaks down to $1,672 per square foot, according to Neighborhood X.  The average listing price in the neighborhood is $1,821, meaning a client could be living in one of the area's hottest developments at a relative bargain for the area.
The second-most expensive unit by square foot is in the 50 Liberty building, a massive condo that's asking for $11.5 million or $3,218 per square foot. That development also has a unit with one of the lowest per-square-foot costs in the area, which is a one-bedroom condo with a price of $1,321 per square foot.
One can get into Seaport for under one million dollars, but they'll have to sacrifice on space. A studio condo in 22 Liberty Drive is going for $699,000 or $1,375 per square foot. Space might be tight, but the building is full service, is on the waterfront and even has a luxury mini-bus to shuttle people throughout the city.
Check out our reports on the most and least expensive neighborhoods in Boston, and check out all of NeighborhoodX's local housing information here.