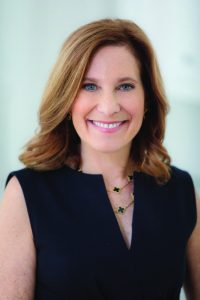 Name: Amy Mizner
Title: Broker/owner
Company: Benoit Mizner Simon & Co. Real Estate
What was your first job in the realty industry? My first job was a switchboard operator in NYC for a real estate company. I told my employer that I had prior experience, but my only experience was watching Lily Tomlin on "Laugh-In." I ended up losing half the calls, but with determination, learned quickly on the spot.
Where did you grow up? I grew up in Hollis Hills, Queens. The diverse public schools taught me the power of communication and independence. It gave me the background to develop valuable people skills while growing up in the streets and playgrounds of New York.
Growing up, what did you want to be? I wanted to be a teacher and later a film producer or director. I followed my passion, and it has led me to where I am today.
What do you do to relax when you're stressed? Exercise and yoga do the trick. Watching a great movie is pure escapism for me. My husband and I are waiting for our next dog, a Bernadoodle! The litter will be ready in the spring. The love of a puppy will be an automatic stress-releaser.
If you could have lunch with a well-known figure (living or not), who would it be and why? I would love to have lunch with Kathryn Bigelow, an Oscar-winning director for "The Hurt Locker." I admire women who are trailblazers for other women in a male-dominated industry.
Where is your favorite place to hang out? The island of St. Barth's. It's my favorite getaway and my happy place.
What do you love most about the industry? Every day is different and challenging. The thrill of closing a deal and bringing something to the finish line satisfies my desire to be a winner.
How do you distinguish yourself from the crowd of agents?  My amazing training in advertising and branding has given me the ability to differentiate myself from the pack. My creative and innovative marketing has been emulated by many of my colleagues and competitors.
What is the most difficult aspect of your job? When there are highs to our job, there are also lows. You need to have an innate ability to bounce back when things don't work out. Your ability to stay positive and forge forward is the secret to success.
Where do you go to network and meet new clients? I love Boston, people and fundraising events. You never know where you will meet your next client.
What has been your greatest accomplishment? Having the courage to leave the safety of a big real estate company with a track record of being No. 1 in my market for many years and starting my own company, Benoit Mizner Simon & Co. My business thrived, and the Mizner Simon team has consistently maintained the No. 1 status in my market.
What is your favorite restaurant? My husband and I enjoy eating oysters at Island Creek Oyster Bar before a Red Sox game. The memories make this my local fave.
Architecturally speaking, what is your favorite building in Boston? I love looking at the reflection of the beautiful Trinity Church in the John Hancock Tower. The image of Boston's old and new in the reflection is an unforgettable visual experience.
What kind of car do you drive? I am a BMW fan. I like a classic black car.
Smartphone or paper? As much as I hate to admit it, a smartphone. It has made my life so easy.
What is your favorite city after Boston? New York, of course. Once a New Yorker, always a New Yorker.
In 10 words or less, what is your advice for someone new to the industry? Work with passion and resilience in every breath you take.