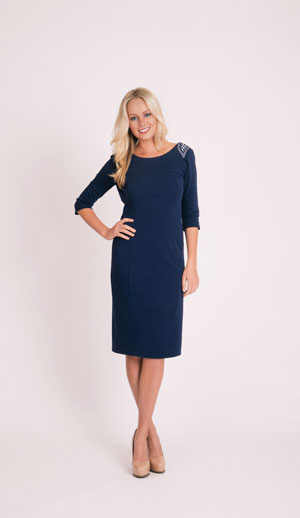 Number of years in real estate: 1
Describe your look: Sophisticated trendy – I love to pair some of the newer trends with clothing that I've had in my closet forever. I also love bright, bold colors that really stand out in a crowd.
What do you consider a "fashion don't"? Wearing shoes in neighborhoods that you can't walk in. I've fallen many times trying to wear stilettos in Beacon Hill.
What is your favorite piece of clothing and why? My black satin AllSaints jacket. It's great for the fall, it's comfortable and it matches everything!
What do you consider a must-have accessory? My Tiffany's diamond necklace. I literally never take it off and it works so well with every outfit.
Where are your favorite places to shop? All the boutiques on Newbury Street. My favorites are LIT, Crush and No Rest for Bridget. My office is one block from all the shops so I'm always shopping! I also wear a lot of Joe Malaika dresses… he's my favorite Boston fashion designer and has made me a lot of custom dresses!
What, besides your wardrobe, completes your look? Lipstick or lipgloss! I choose the color after I've picked the outfit.
What is in your bag/brief case? Makeup, business cards, a toothbrush, a hairbrush, nail polish, pens, gum
My closet is full of… Dresses! You would think I live in Florida year round with the number of sun dresses I own.
What is your style advice for other people in the industry? Dress to your personality. Real estate isn't sitting in an office….we're constantly on the go and introducing ourselves to new clients. Wear what you're comfortable in and something that will leave a positive impression of who you really are.
Dress by MIAMI; necklace by Tiffany & Co.; heels by Vera Wang