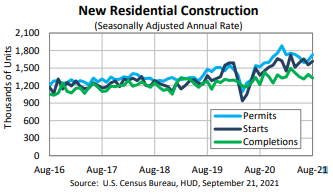 The pace of privately owned new residential construction gained steam in August, thanks to a strong showing from the multifamily sector.
Including the single-family homes and buildings with five or more units, the annual rate of housing starts was up 3.9% month over month to 1,615,000, according to the U.S. Census Bureau and the Department of Housing and Urban Development. Starts were up 17.4% compared to a year ago.
The increase was driven by a 21.6% spike in the rate of multifamily starts, which hit 530,000. That rate is 60.1% higher than it was in August 2020.
Single-family housing starts, meanwhile, slid 2.8% on a monthly basis to 1,076,000 units. Year over year, that represents a 5.2% gain from the August 2020 rate of 1,023,000.
The seasonally adjusted annual rate for privately owned housing units authorized by building permits was at 1,728,000 in August, up 6% from July's revised rate and up 13.5% from August 2020.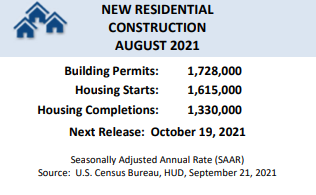 "The August month-over-month increase in permits and starts indicates that builders are eagerly responding to near record-low rates, a limited supply of existing-homes for sale and sturdy demand driven by millennials aging into homeownership," First American deputy chief economist Odeta Kushi said. "Rising homebuilder sentiment supports today's positive housing starts report. Sentiment remains on solid footing, despite concerns that higher new home prices may be causing some would-be buyers to pull back from the market."
Privately owned housing completions hit an annual rate of 1,330,000 in August, down 4.5% from July's revised rate but up 9.4% from a year earlier.
By region, August new construction activity was strongest in the Northeast, where it surged 167.2% from July, followed by the Midwest, where it rose 11.4% and the South, with a 1.4% gain. The pace of housing starts fell 21.1% in the West, however.
"The bottom line is the housing market has been underbuilt for a decade, and builders can't close the gap between supply and demand overnight, but they are trying," Kushi said. "Yet, strong supply-side headwinds remain. Many existed even prior to the pandemic, but worsened during the pandemic."