Boston's real estate market certainly saw its share of challenges through the pandemic. Increased homebuyer demand and limited inventory continue to drive prices to record highs throughout the Bay State, and the Boston area is no exception.
PropertyShark analyzed and ranked Boston's priciest neighborhoods, looking at how the residential market performed from Jan. 1 to June 30. That report found what has been an ongoing discussion — the median sale price of a Boston home has reached an all-time high.
In the first six months of 2021, the median price of a home reached $665,000, a trend the report notes is more evident when you look at quarterly numbers. In the second quarter of 2021, the median sales price of a home in Boston was $682,000.
The median home price increased up to 19% in 12 of the 21 Boston neighborhoods. Eight neighborhoods saw a decrease by as much as 35%.
Three Boston neighborhoods had median sales prices of more than $1 million.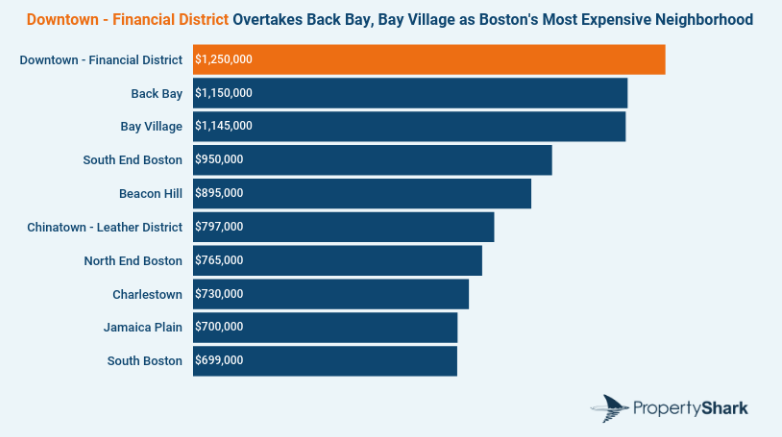 Boston's Downtown-Financial District is the No. 1 most expensive neighborhood in Beantown with a median sales price of $1.25 million, surpassing both Back Bay and Bay Village, which ranked second and third with median sales prices of $1.15 million and $1.14 million, respectively.
Both areas saw a drop in ranking despite historically being the more expensive spots in the city.
With a median sale price of $1.763 million, Bay Village was Boston's priciest neighborhood in the first half of 2020, followed by Back Bay at $1.476 million, according to the report.
The report attributed the year-over-year change to a shift in homebuyers preferring smaller homes so far this year compared to last. The average square footage of sold properties dropped by 18% in Bay Village and 16% in Back Bay.