The pace of home-price increases in Boston gained steam in February, according to the S&P CoreLogic Case-Shiller U.S. National Home Price NSA Index, which showed a 0.9% increase from January and a 13.7% increase from a year earlier.
By comparison, the index rose 0.7% on a monthly basis in January.
Nationwide, the seasonally adjusted housing index rose 1.1% month over month in February and 12% year over year, up from monthly and yearly increases of 0.8% and 11.2% in January, respectively.
The national year-over-year gain is the highest recorded since February 2006, Craig Lazzara, managing director and global head of index investment strategy at S&P Dow Jones Indexes, said in a press release.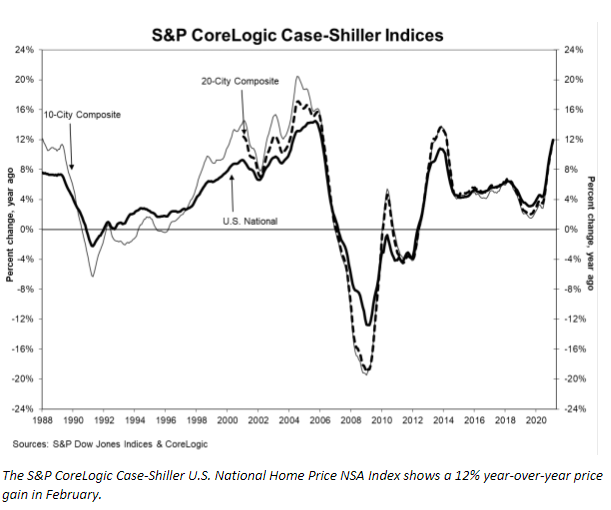 The 10-city composite index rose 1.1% on a monthly basis and 11.7% on a yearly basis, while the 20-city composite rose 1.2% monthly and 11.9% annually.
All 20 cities in the composite index posted gains, and the increases in every city are above that city's median level, Lazzara said.
"These data remain consistent with the hypothesis that COVID has encouraged potential buyers to move from urban apartments to suburban homes," Lazzara said. "This demand may represent buyers who accelerated purchases that would have happened anyway over the next several years. Alternatively, there may have been a secular change in preferences, leading to a permanent shift in the demand curve for housing."