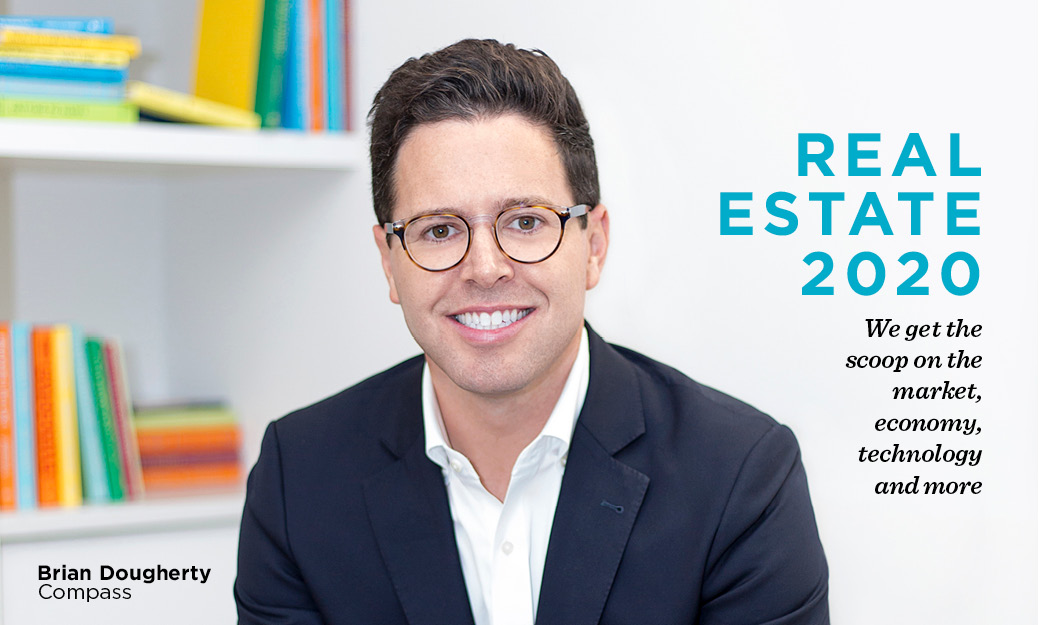 It's almost 2020, if you can believe it, and the future of the real estate industry is, perhaps, more uncertain than ever. Agents not only will contend with the potential of rising interest rates and an economic recession ­– the presidential election next year and ever-changing technology landscape will further contribute to the reshuffling of the deck for those in the industry.
We caught up with some of Boston's real estate industry leaders to help us read the tea leaves and predict what the market will bring in the coming year. Without further ado, we'll leave it to the experts to tell the story.
---
Also in this issue
What do Boston agents predict for the coming year?
---
The Market
Can you share one outdated idea about real estate that you keep hearing people repeat, regardless of the fact that it's not accurate/pertinent to the real world?
Brian Dougherty, managing director at Boston Compass and head of Compass' Private Brokerage Division: We continue to encounter sellers at all price points who believe they can save money by selling their properties directly to a consumer. While they may indeed save on some commission expense, they almost always ended up leaving money on the table. In one recent incident, a seller was proud that they saved about $50,000 in commissions, but they also undersold their property by nearly $200,000 – something they would have realized had they allowed a broker to provide their home with the professional marketing and exposure it deserved. I can bring multiple parties to the table and leverage their competing interests to achieve the highest price possible.
Sheryl Simon, principal at Benoit, Mizner, Simon & Co.: A lot of buyers always think the market will shift in their favor. They wait too long to "step in" for fear that the market is going to crash, and they don't want to overpay. Traditionally, there are fewer houses and more buyers looking to step into the housing market than there is supply. So, my advice is simple – look for homes that have been overlooked and have set on the market for some time, instead of running to see new inventory. Typically, you can negotiate a better deal on a home that has been sitting a while and overlooked than on new inventory, which may get several offers and potentially bid wars. The rates also impact buyers' decisions to step in or out. Jump in when you are ready to do so, if the rates drop you can always refinance.
Maryruth Ryan, Regional Mortgage Sales Manager, TD Bank: There's a misconception that Realtors and mortgage loan officers will be displaced by digital technology. The reality is that homebuyers, especially first-time homebuyers, still value the expertise and guidance of their realtors and lenders, while making what may be the single largest purchase of their lives. These roles aren't going away – they're just evolving. Homebuyers can do some research online, but they still rely on humans to look at their unique needs and financial situations and guide them into homes and mortgages that make sense for them.
Where will the hottest communities and neighborhoods be in 2020?
Nick Warren, Founder and CEO, Berkshire Hathaway HomeServices Warren Residential: The Seaport continues to be attractive to people, but we're also seeing some of the up-and-coming neighborhoods become more and more attractive … Also, East Boston and parts of Dorchester, Somerville and Medford.
Ryan: I expect Boston proper will continue to be a robust market, as well as the suburbs along the commuter rail. Given Boston's heavy commuter traffic, access to public transportation will be a key factor for many homebuyers.
Simon: There are so many variables in real estate purchasing. There is such a diversity in the buyer pool, as well. I am seeing bid wars in the $800,000 to $1 million price range in the Medfield, Westwood Dover and Natick markets. A lot of buyers with children are still very focused on a great community with good schools and a vibrant lifestyle. They may be priced out of the Newton, Brookline, Weston or Wellesley luxury markets, so a little further commute is acceptable. I am also seeing a lot of buyers looking at real estate taxes as a final determination for buying their home.
Dougherty: As this "calming" in our marketplace happens, and we work through uncertain global macro issues like trade, and the elections, we can count on the strongest markets being in the core communities like downtown Boston, Back Bay, Beacon Hill, and South End, while fewer consumers will be excited to speculate on purchases in "emerging markets." Cambridge will continue to be healthy and robust, as will Brookline and the suburban towns with the best school systems and commuting ease.
Will 2020 be a buyer's market? Why or why not?
Andrew McKinney, Esq., Associate Broker, Buyers Brokers Only, LLC: I think conditions are slowly changing towards being a buyer's market (at least in parts of the Boston area). Increased inventory and longer days on market are making conditions a little easier for buyers.
Simon: Unless there is a surplus in the market, which I suspect we will not see in 2020, I predict it will be a seller's market.
Dougherty: Yes. We are already seeing increased inventory and longer days on the market, so this will create an opportunity for buyers and their agents to see more options and negotiate a favorable deal.
Technology
What new technologies will your company be adopting over the next year?
Craig Brody, Vice President Luxury Sales/Development Sales, Berkshire Hathaway Warren Residential: Berkshire Hathaway has partnered with Adwerx to continue targeting both buyers and sellers.
Rich Kim, Operating Principal, Keller Williams Cambridge/Somerville/Allston/Brighton: We are thrilled with the role out of KW Command. It's a one-of-a-kind consumer and agent platform which will be providing our consumers with a complete end-to-end consumer experience by utilizing connected data. We have built a technology that will streamline how agents do business and help them compete in today's digital world. This has assisted KW in transforming into a world-class technology company and has enabled us to disrupt and revolutionize real estate by reclaiming agents' data and putting it back into their hands.
Dougherty: At Compass, we have a number of technological resources to help our sales process. We utilize a feature on our website for "coming soon" listings – so consumers and their agents have to use the Compass website to learn about properties before they make it onto the market. We are enjoying our CRM and search functionalities, which help us share only relevant information with clients and keep in touch with them only when they want to be in touch.
Ryan: At TD, we recently rolled out our self-service digital mortgage application to simplify and streamline the mortgage process. Homebuyers can fill out their application at any time – in line for coffee or at midnight in their pajamas. This has significantly reduced information intake time and allows our loan officers to spend less time transcribing application details and more time providing expert, personalized guidance to homebuyers.
Simon: Technology is here to stay. In fact, there appears to be a technology war out there. Large companies are consistently trying to raise the bar on what they think are the latest and greatest tech tools they have developed. As an independent company we are embracing all the social media and technology tools out there but never lose sight that our clients are by far the most important asset we have. By demonstrating our in-depth knowledge of the market, staying current and being the best advisors to them is irreplaceable by any tech tool out there. We focus on a deep and personal relationship and evaluating our clients' needs – nothing can replace that!
How are tech changes going to affect the day-to-day business of agents and brokers?
Kim: 2020 is going to be a huge year for real estate technology. Our industry is in the midst of what we like to the call the fourth industrial revolution with the war on Big Data. Amazon, Facebook, Google and many aggregators are looking to purchase data from our consumers. To get a good glimpse, in 2013 there was $331 million spent on real estate tech, but in 2019 this number increased to over $8 billion. The top tech players are now consolidating and the largest players on the chessboard are doubling their pot. The winners will be the companies who can keep their own data or have access to their consumer data and create a flexible and end-to-end user experience for their consumers. Predictive analytics in real estate sales will be able to provide consumers with insights that were unimaginable a decade ago. Our industry will look very different in the next five years.
Simon: Most brokers who are working with companies that keep raising the bar on tech tell me it is a great tool if only I knew how to utilize it!
Warren: I think, as we've seen over the last 5 to 10 years, technology has not taken the agent or broker out of the business but made more tedious tasks efficient, so brokers and agents can spend more time doing our high-value jobs. We're going to see more and more automation of repetitive tasks.
Politics and the economy
Do you expect the economy to help fuel the housing market in 2020? Why or why not?
McKinney: Yes, if the economy continues to prosper and buyer demand continues, the 2020 housing market should continue to be strong. If the economy goes into recession, this will have an obviously negative impact on the housing market.
Simon: The economy is the biggest factor on home purchasing, retail shopping, traveling etc. Being a Realtor since 1991, swings up or down 3-5 percent is typical in any given year. Sometimes the swings may go as high or as low as 7-10 percent in the real estate market, but larger swings are not typical.
Brody: I believe interest rates will continue to make buyers of lots of people. With a presidential election upon us, there could be some changes in the market. It will be interesting to see.
What impact do you think the 2020 election will have on the economy and/or real estate market?
McKinney: I think that both buyers and sellers will wonder where the market will go depending on the policies of the candidates and who may win for president next year. I noticed a brief pause in the market when Trump won, and I suspect that there may be another after next year's election, possibly more so if someone new wins.
Simon: Oftentimes, sellers are concerned about the housing market because of an election year. If they hold off putting their house on the market, it may be a perfect time for sellers to sell in that market. Remember supply and demand – fewer houses in the market favor a seller not a buyer.
Dougherty: Certain price bands have greater immunity to market adjustments. We will continue to see sales velocity in the upper end of the market. The election brings uncertainty, and buyers don't like uncertainty. We will have many buyers waiting to "see what happens," so I do think sales volume will be down until we are post-election.
Brody: I think people become scared to make a decision when they see lots of possible changes down the road.
Warren: It obviously depends on which direction it goes. From what I've been reading, if a Democrat gets elected from the ones we have to choose from now, there could be dramatically negative effects to the overall economy, which can trickle down to real estate. If Trump stays in office, we'll see more of the same, I think. So, it's the uncertainty that might cause some effects over the middle part of 2020.
New opportunities
What will be the biggest challenges and opportunities for agents and brokers in 2020? 
Warren: I think one of the biggest challenges is getting buyers and sellers on the same page. There's that difference in expectations where sellers are used to hearing stories from a friend of 10 offers on their place and no contingencies and no inspections, all cash. We've seen that over the years, but the market is shifting and continuing to shift and we're beginning to not see that. The challenge will be getting the seller's mind wrapped around not expecting to see that anymore.
Simon: The biggest challenge for brokers in 2020, I suspect, will be the upcoming election. Buyers may have hesitation to buy, and sellers may not think it is the best time to sell with some uncertainty about the upcoming election.
Ryan: I believe inventory will continue to be a challenge next year. We're seeing many baby boomers choosing to age in place rather than selling their homes. Additionally, many would-be second-time homebuyers are opting to renovate their current homes rather than move. So, there is less housing stock available. Perhaps as a result of the low inventory environment, we've been seeing many first-time homebuyers migrate into condos in Boston or into neighborhoods right outside the city with access to public transportation.
Dougherty: Small and midsize brokers will have to fight to keep their agents from larger, well capitalized firms like Compass, who offer agents great packages and resources to run their individual business. That said, regardless of where agents are operating from, we are all going to see further calming in the Greater Boston market – a significant departure from recent years of a "frothy market" where offer deadlines and multiple offers were the norm. We're all going to have to work harder and more creatively to achieve deals.