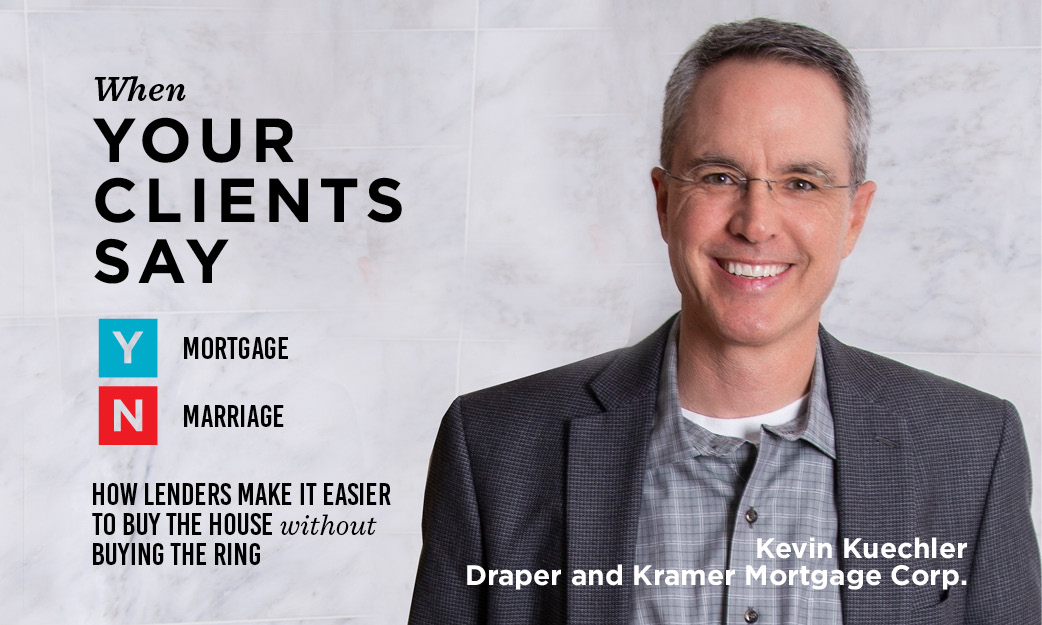 While the majority of house hunters and homeowners are married, about one in 10 homebuyers is now an unmarried couple, according to Zillow's Consumer Housing Trends Report. And the share of first-time homebuyers who were never married has been steadily rising, climbing from 23 percent to 35 percent between 1997 and 2017, according to Harvard's Joint Center for Housing Studies.
"I definitely see unmarried couples, that's definitely increased incrementally year after year," says Shant Banosian, branch manager at Guaranteed Rate Mortgage in Waltham. "A lot of times people can't afford to do a wedding and put a down payment on a house, so they're deciding to buy the house first, because that's a little bit more daunting."
The average first-time buyer made a 7 percent down payment in 2018, according to the National Association of Realtors. With the median Massachusetts single family selling for $410,000 in September, that amounts to $28,700 for a first-time Bay State homebuyer – daunting indeed. But the average cost of a Boston wedding topped $40,000 in 2017, according to The Knot. With so many young homebuyers saddled with student debt, one of those milestones is bound to be pushed aside — and with home prices spiraling out of reach, some couples may feel more urgency around purchasing a home.
We spoke to loan officers, attorneys and financial advisors to learn what these nontraditional mortgage borrowers need to know when going into a home purchase and what kind of support they need from their real estate agents.
Mortgage
To a mortgage underwriter, unmarried couples are indistinguishable from married partners. "They're evaluated the same exact way, it's purely based on financials: their credit, their income and their assets," Banosian says. "Sometimes they have joint accounts, but we consider their single accounts as well. Everybody has their own separate credit report, that's no different than if someone is married."
And as with married couples, it's important that your clients understand the impact their credit will have on their loan. "Generally speaking, among a group of borrowers, the person with the lowest credit scores will determine what rate the group qualifies for," says Kevin Kuechler, senior loan officer at Draper & Kramer in Franklin.
If one partner has a dismal credit score or piles of debt, the other can apply for the mortgage by themselves — as long as they make enough money to qualify on their own. "A borrower can be omitted from the loan but remain on the deed and still have ownership," Kuechler says. "But in these cases, the non-borrowing owner's income cannot be used in the underwriting."
While the mortgage application process isn't much different for unmarried couples, it does present some unique complications. Agents should be ready to recommend two trusted experts to their unmarried buyers, says Banosian: a real estate lawyer and a financial professional.
It's important for unmarried couples to consult an attorney and draw up a legal agreement that outlines the responsibilities of each partner. But they should also "talk to an accountant to determine how the finances will shake out in terms of how to take the write-offs together and what that means when it comes to tax filing time," Banosian says. "They won't be filing taxes jointly, whereas a married couple would in most cases."
Difficult discussions
When an unmarried couple is planning to buy a home together, their agent should encourage them to have three crucial and sometimes difficult conversations, says Jennifer Lane, a certified financial planner and founder of Compass Planning Associates in Boston and Wellesley.
The first is the hardest to broach and something most couples don't want to discuss: planning for what happens if things don't work out or, worse, if one partner dies.
In the event of a breakup, "Will you sell the house and divide the cash? Can one partner buy the other partner out?" Lane asks. And even more grim, she asks, "Will the surviving partner inherit the house from the partner who passes away first, or will the deceased partner's family inherit their share of the house?"
The answer to the latter will determine how your clients take title. "When unmarried couples purchase property together, they have the option of taking title as tenants in common or joint tenants with rights of survivorship," says Diane Gold, an estate planning attorney in Needham.
Joint tenancy is how married couples generally take ownership of real estate. It means that if one partner dies, "the property will be owned individually by the surviving party," Gold says. A more common arrangement for unmarried couples or other nontraditional buyers is tenancy in common, in which each partner owns a defined share of the property. Should one partner die, their share of the home would be left to whomever is specified in their will — that could be the other partner, but it could also be someone else, like a child or other family member.
The next point of discussion is more fun, and applies to just about any homebuyer, married or otherwise: Tell your clients to discuss their immediate and long-term home improvement plans.
"You want to be on the same page when it comes to spending on the home," Lane says. "Will you redecorate? Renovate? Leave everything as is? How will you share those costs?"
Finally, unmarried partners need to set clear expectations about who will be doing what to take care of the home day after day, year after year. "Unless one of you is super handy and loves to putter in the yard or around the house, then you'll need to plan for maintenance and how those expenses will be shared," Lane says.
---
Also in this issue
Buying outside of wedlock? Experts say choose your partner carefully
Get it in writing: The Dos and Don'ts of buying sans marriage
---
Put it in writing
All of these intentions should be clearly outlined in a legal real estate or domestic agreement. "Unmarried couples purchasing homes together should first and foremost have an agreement regarding who is responsible for the bills related to the property — not just the mortgage, but also utilities, maintenance, and the like — and what should happen to the property in the event of a dissolution of the relationship," Gold says. "The agreement should also address what happens to the property if one party dies."
A domestic agreement is key, echoes Marc Canner, a real estate attorney in Needham. "It's going to lay out each party's monetary contributions and stakes in the property and their roles," he says. This is especially important if the partners split up later. Because unlike the settlement process to unwind ownership in court after a divorce, Canner says, "for unmarried couples, there really is no overarching structure in place absent a domestic agreement."
In most cases, a domestic agreement is strictly for the homeowners' benefit—it's not something the mortgage underwriter needs to see before approving the loan. That's because all borrowers will be held jointly liable for the entire debt, Keuchler says. "In other words, if one borrower fails to contribute toward repaying the mortgage, all of the other borrowers must step up and pay. Otherwise, they will all default together," he says.
Other nontraditional buyers
Unmarried couples aren't the only unconventional buyers who finance a real estate purchase together, of course. Siblings, friends or parents and children may wish to acquire a property together. Most of the same advice still applies.
"I've seen and heard of situations where two couples that are friends buy houses jointly," says Adam Rosenbaum, a Realtor with Century 21 Adams in Arlington. "It works out, until it comes time to sell, and things can get sticky."
Rosenbaum also recalls a two-family home in Malden jointly purchased by an older couple and a single woman who lived in the other unit. "Ten or so years later when the couple wanted to sell, the single woman had no interest in selling since she was collecting considerable money from renting out bedrooms to college students," Rosenbaum says. "It was quite contentious, and almost went to a 'petition to partition,' which is where a judge dictates what is to happen – at substantial cost to everyone."
Start early
As reluctant as clients may be to dig into deep and depressing discussions of their eventual undoing, it's important that they pin down their expectations through open, honest conversation.
"The process of creating the contract can definitely stir up conflict between the parties," Gold says, especially if either partner has children from a previous relationship. "These differences can usually be worked out through some sort of compromise, but discussing such matters definitely brings to the forefront what each party believes about the right to inheritance."
And while a domestic agreement can be drafted any time before closing, if there are sticking points, it's better they come out now than during the final walk-through. Gold urges homebuyers and their agents not to wait until the last minute.
"I think that unmarried buyers should start discussing the various issues that could arise as soon as they start thinking about buying real estate together," Gold says.