Boston was just classified as 'growing.' Here's what that means.
by Scott Klocksin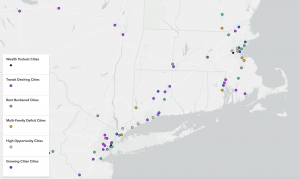 In a report titled "Housing Market Conditions Across America's Cities," the National League of Cities' Center for City Solutions recently classified 754 cities of at least 50,000 residents into six different categories to identify their main housing opportunities and challenges. 
Boston's classification was as a "growing" city, joining 92 other cities the researchers looked at. The other categories are high opportunity cities, growing cities, multi-family deficit cities and wealth pocket cities. 
Being a growing city means that Boston has in recent years had an insufficient number of multi-family building permits issued for its predominately medium-income residents. Cities classified as growing are around the national median in terms of income, owner occupancy, gender income gap, population growth, number of single-family building permit, job growth and low access to public transit. 
Some of the factors that played into the determination are whether each city's permitting of single- and multi-family housing is meeting the income levels and job growth opportunities of its residents, as well as demographic and economic issues. 
Clarence E. Anthony, CEO and executive director of the National League of Cities, emphasized the importance of tailoring strategies for promoting affordability to the conditions in each individual city. "Affordable, stable housing is currently out of reach for millions of Americans," he said in the report. "Of course, there are certain housing policies that can have a positive impact everywhere, but we know that strategies and solutions in Seattle and Denver may not work for Charlotte, North Carolina, or Peoria, Illinois."
Access to jobs outside of a city's boundaries can be as important for its vitality and economic health as having those jobs inside the city itself. Boston does well by both criteria, with 1,756 public transit vehicles deployed on its roads and rails (only New York City, Los Angeles, Chicago and Philadelphia—all cities with far larger populations—have more). And only one city (New York) has a higher percentage of commuters using its transit system. Fully half of Boston's commuters use public transit, which helps keep jobs both inside and all around the city accessible to people of various income levels. "High proximity to jobs means more opportunity for economic growth, which bodes well for the in-migration of young singles, as well as growing families," the report said.
That proximity and access to jobs is among the reasons Boston is such a draw for young professionals. But the city's magnetism can also contribute to some of its housing difficulties. The report recommends taking steps to increase affordability and the promote homeownership. "[Cities classified as growing] need to focus on the people who are attracted to them," the report said. "Millennials, for example, may be interested in non-traditional housing options such as micro units. Furthermore, these cities could examine their residents' income levels to assess whether they are building the right mix of dwellings for their predominately middle-income residents and identify how local governments might support wealth-creation strategies. Maximizing density is key to ensuring both residents' ability to pay and ample housing options, such as multi-family or multi-story single-family style structures (i.e., townhouses)."
The report also assigned classifications to several municipalities surrounding Boston. Malden and Peabody share Boston's classification as growing. Quincy is classified as multifamily deficient, meaning the report's authors think its affordability issues would be best addressed through building more apartments and condos. And several cities containing large research universities, like Cambridge, Somerville and Medford, are what the report terms wealth pocket cities, in which a more diverse socio-economic mix would help render housing more affordable for those of middle and lower incomes.