Agent Snapshot: Cheri Meckley, Real Estate Agent, Bushari Real Estate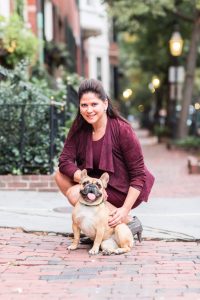 Name: Cheri Meckley
Title: Real Estate Agent
Company: Bushari Real Estate
What was your first job in the realty industry? Jebb and Driggin Realty.
Where did you grow up? Rhode Island.
Growing up, what did you want to be? Teacher or veterinarian.
What do you do to relax when you're stressed? Exercise or shop!
If you could have lunch with a well-known figure (living or not), who would it be and why? Elizabeth Schuyler Hamilton. I am beyond obsessed with the musical!
Where is your favorite place to hang out? Any place that my friends are!
What do you love most about the industry? The constant shifting of trends.
How do you distinguish yourself from the crowd of agents? Education. It's important to stay current and knowledgable in the field.
What is the most difficult aspect of your job? Time management.
Where do you go to network and meet new clients? Everywhere, from standing in line to walking the dog, and everything in between
What has been your greatest accomplishment? Retention of clients.
What was the last good movie you saw or book you read? One of my favorite books of all time is "East of Eden" by John Steinbeck. I read it while living in the Monterey, California, region (where it was based) and it was just enchanting for me.
What is your favorite restaurant? Kava. I can't get enough of it.
Architecturally speaking, what is your favorite building in Boston? The buildings in Downtown Crossing. Every time I walk through and look up, I notice a different detail that I missed before. That kind of craftsmanship doesn't exist anymore!
What kind of car do you drive? Tesla Model S.
Smartphone or paper? Smartphone for 70 percent, but I still love a good daily planner!
What is your favorite city after Boston? Sydney. We went for part of our honeymoon and fell in love!
In 10 words or less, what is your advice for someone new to the industry? Be true to yourself.
What's your favorite real estate iPhone/Android app? I don't use real estate apps.
Who are your favorite people to follow on Twitter? Comedians. I love a good laugh.