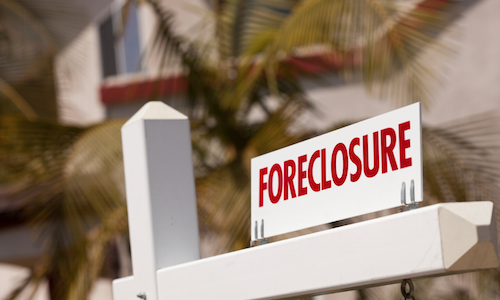 Yesterday, CoreLogic released its June 2015 National Foreclosure Report, and the big reveal was foreclosures are still dropping – so not much of a surprise.
For another month, national foreclosures fell, with inventory dropping 28.9 percent year-over-year from a 1.7 percent to 1.2 percent market share, while completed foreclosures declined 14.8 percent.
From their peak in September 2010, foreclosures are down 63.3 percent and currently represent the lowest rate since Dec. 2007.
The country's serious delinquency rate dropped nearly a percentage point to 3.5 percent, which is a healthy level, but above the normal standard established in pre-crisis years.
In Massachusetts, foreclosures no longer remain below national levels. Inventory inched up 0.2 percentage points in June to 1.4 percent. The state has now experienced several months of foreclosure increases. However, as we recently reported, the increase is less the result of an uptick in foreclosure activity, and more the product of lenders working through a backlog of foreclosures leftover from the recession.
Serious delinquencies in the state dropped 0.6 percentage points to 3.7 percent.
National Movement
Researchers from CoreLogic examined data from individual states and metros to determine where foreclosures were still a problem and where their significance had waned.
The five states with the highest number of completed foreclosures for the 12 months ending in June 2015 were: Florida (102,000), Michigan (46,000), Texas (33,000), California (29,000) and Ohio (27,000). Those five states accounted for almost half of all completed foreclosures nationally.
Four states and the District of Columbia had the lowest number of completed foreclosures for the 12 months ending in June 2015: South Dakota (32), the District of Columbia (107), North Dakota (313), Wyoming (499) and West Virginia (566).
Four states and the District of Columbia had the highest foreclosure inventory as a percentage of all mortgaged homes: New Jersey (4.7 percent), New York (3.7 percent), Florida (2.7 percent), Hawaii (2.5 percent) and the District of Columbia (2.4 percent).
Uneven Healing
Throughout the year, foreclosure rates have steadily declined, and the reason is simple: rising employment and strong home prices.
"The foreclosure rate for the U.S. has dropped to its lowest level since 2007, supported by a continuing decline in loans made before 2009, gains in employment and higher housing prices," said Frank Nothaft, chief economist for CoreLogic.
Nothaft, added, however, that the improvements have not happened universally, and that in some areas, like Tampa and Suffolk, foreclosures are still very much a problem.
CoreLogic CEO and President Anand Nallathambi took a more positive tone in highlighting the country's dwindling serious delinquency rate.
"Serious delinquency is at the lowest level in seven and a half years reflecting the benefits of slow but steady improvements in the economy and rising home prices," he said. "We are also seeing the positive impact of more stringent underwriting criteria for loans originated since 2009 which has helped to lower the national seriously delinquent rate."