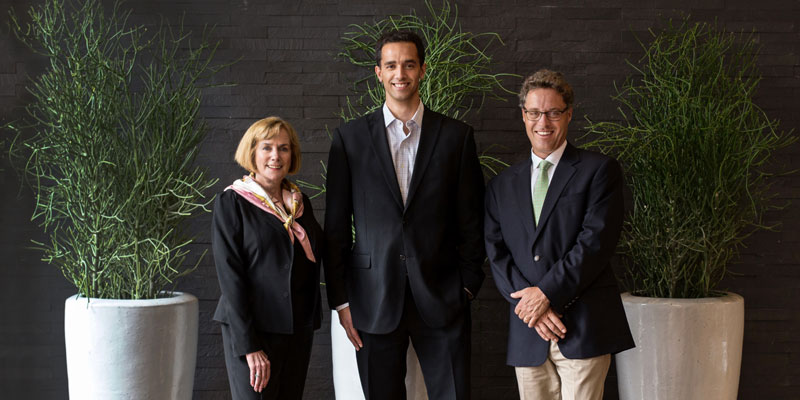 Rosella Campion, Senior Loan Officer, South End Branch Manager
Klaus Jensen, Senior Loan Officer, Hanover Branch Manager
Jason Evans, Senior Loan Officer
loanDepot's Retail Lending Division – Mortgage Master
loanDepot's Retail team in Boston is defined by its simple but effective strategy: offer competitive rates, provide excellent customer service and give straightforward advice. Three of the team's top senior loan officers are responsible for executing that strategy: Rosella Campion, Klaus Jensen and Jason Evans.
Campion, a 22-year veteran of the mortgage industry and senior loan officer, manages the South End branch. Her experience comes with perspective.
"Every person and every transaction is unique," she says. "Your approach must take that into consideration; you must be empathetic."
This is why Campion takes time to learn about her clients and meet with them face-to-face. She wants to understand their needs so she can educate and direct them through the lending process.
"It's my goal for my clients to succeed, become responsible borrowers, and stay in their homes for a long time," she says.
Jensen, senior loan officer and manager of the Hanover branch, has 15 years of experience in the industry, a bachelor's degree from Yale and an MBA from the Tuck School of Business at Dartmouth. He is a highly trained businessman with 4,000 transactions and more than $1 billion in loans under his belt. But don't call him a salesman.
"I think of myself as a client advocate," he says. "Matching the right product to the client's needs is something I take great pride in."
Jensen is committed to delivering an unrivaled customer experience to homebuyers and Realtors. This approach has helped him grow his business. "I find that clients will refer others to you if you deliver excellent service and solid advice. I have built my business through referrals and positive word-of-mouth."
Evans has a finance degree from Bentley University in Waltham. He started his career in 2005 and has since recorded more than $500 million in loan volume. Working alongside Campion and Jensen on the company's All Pro Team, he is committed to teamwork.
"Working through challenging times helped me become a better professional," says Evans, who has focused on the true value of client education in recent years. "So much of what I know came from dealing with customers through the day-to-day work. It's my mission to find my customers the right product at the right time and guide them through the process, providing them with all the information they need to make the right choices. I believe in being a trusted resource for my clients and referral partners."