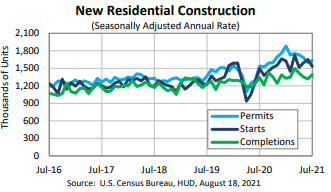 New-home sales fell sharply in July, sliding 27.2% on a seasonally adjusted, year-over-year basis to 708,000, while the median sales price rose to $390,500 from $370,200 in June, the U.S. Census Bureau and the Department of Housing and Urban Development reported.
Month over month, new-home sales were up 1%, according to a press release.
The seasonally adjusted estimate of new houses for sale at the end of July was 367,000, representing a supply of 6.2 months at the current sales rate.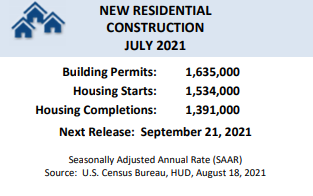 "The outlook for new home sales is largely dependent on the amount of new homes being built and demand for new homes," First American Deputy Chief Economist Odeta Kushi said. "The current pace of building is limited by multiple supply-side headwinds, but the July increase in the number of permits issued is a positive sign of more building to come."
By region, the number of new homes sold in the Northeast plunged 47.6% month over month to 22,000 on an adjusted basis, while they were down 44.1% in the Midwest at 71,000, down 28.4% in the South at 400,000 and down by 11.9% in the West, at 215,000.