The Boston housing market has seen a series of changes amid the COVID-19 pandemic. While interest rates remain low, the geographic preferences of many Bostonians are shifting out to the suburbs, creating a red-hot market fueled by low inventory and skyrocketing prices.
To further understand the preferences and behaviors of first-time buyers, TD Bank surveyed more than 1,000 Americans planning to purchase their first home in 2021 as part of our annual First-Time Homebuyer Pulse. We found the pandemic has caused many buyers to adjust their timeline, their budget and their overall housing preferences.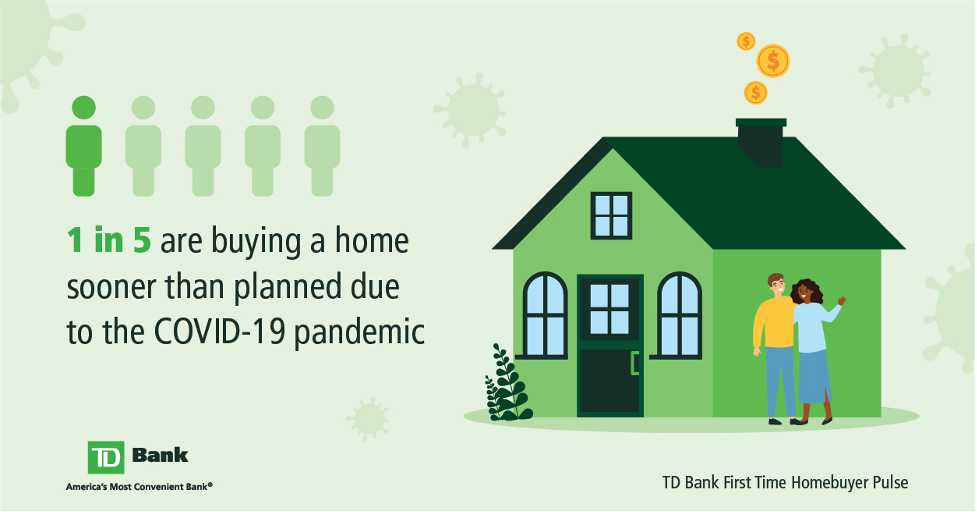 A Shift in Priorities
Lockdowns and remote working/learning are fueling the desire to move, with one in five saying they're buying a home sooner due to the pandemic. Despite the clear intention to buy, just 53% have established a budget.
Not surprisingly, the number one reason to move was a desire for more living space (57%), followed by more outdoor space (39%). Only 37% listed "close to my office" as a top three home amenity, as remote work continues to provide buyers with geographic freedom. Without work tying them to Boston, many are migrating out to Central Massachusetts, Arlington, Medford, Winchester, the Cape and the South Shore.
A Reality Check
Increased competition and soaring prices are causing some homeowners to adjust plans. Seventy-one percent said they are looking for a starter home or fixer upper, instead of a move-in ready, forever home. Of these, 41% said the pandemic influenced them to pursue a less expensive home.
However, some buyers have managed to use the pandemic to their financial advantage. Thirty-six percent of people now plan to use their government issued stimulus checks to help with a down payment. Others, particularly younger buyers, reported being able to save money on rent by moving out of their apartments and in with family or friends.
Despite the complicated environment, potential buyers aren't proactively getting the guidance they need. When asked about the best time to engage a lender, almost a third (30%) said after finding the home they want to buy. Further, 80% had not spoken with a lender at all, despite the intent to buy within the year.
Amid uncertain times, it's important for REALTORS® and lenders to help buyers manage expectations, build realistic budgets and gather paperwork to avoid unnecessary obstacles. A strong financial foundation can better position buyers in the competitive Boston-area market.
Personal Advice in an Increasingly Digital World
The pandemic has accelerated trends toward digital home offerings. Our survey found more than one in five (22%) buyers would purchase a home without ever seeing it in person. More than three in four homebuyers (78%) noted they plan to use a home listing website to find a home.
That said, many homebuyers still want the human touch – 56% plan to use a real estate agent when looking for a home and 43% prefer to start the mortgage application process in person with a lender.
In this highly competitive environment, if buyers don't engage with a professional, it's possible they'll miss out on a home they want or commit to an unrealistic budget. It's the job of REALTORS® and lenders to guide buyers through the complicated process, toward an ideal home purchase.
Maryruth Ryan
Regional Mortgage Sales Manager
Massachusetts